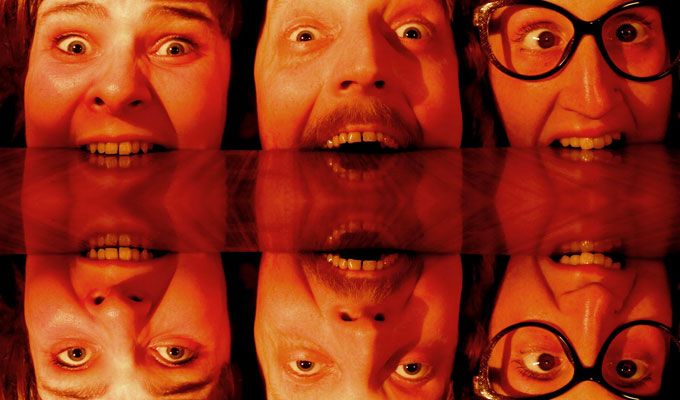 Fright Wig: Essential Tremors
Everything about the macabre Fright Wig is excellent except – rather unfortunately given its genre – the comedy.
In their shabby vintage clobber and patchy death-white makeup, Izzie Major, Sarah Gould and Craig Sinclair are the epitome of decaying wretchedness. After a premable intones with foreboding of the horrors that are about to unfold, this ghoulish trio share their grisly parables with enviable melodramatic skills.
They beckon you into their dark world like bony fingers from a grave as they recount tales of murder, madness and paranoia hidden behind a veneer of cosy domesticity. Their aim is clearly to be like Saw, but as written by Alan Bennett, yet the mood is unbalanced.
The jet-black humour doesn't always emerge from the murky scenes they depict, leaving rather too literal a picture of squalor or violence. Against this, only the most obvious comedy ideas stand out, which tend to be the sort of sex jokes that cheapen their otherwise classy production. Beyond that, the best they achieve in Essential Terrors is a wry acknowledgment of the dark ironies at the heart of their stories, rather than laugh-out-loud moments.
The macabre atmosphere is well-established and constantly maintained, but what's often missing is that element of surprise that's essential to both comedy and horror. Maintaining an equilibrium between jokes and suspense is a tricky high-wire act, and this clearly talented threesome are so careful about the sombre mood, the laughs are a distant second.
But their aesthetic is fantastically grim, and certainly the stuff of which cults are made.
Review date: 22 May 2019
Reviewed by: Steve Bennett
Recent Reviews
What do you think?