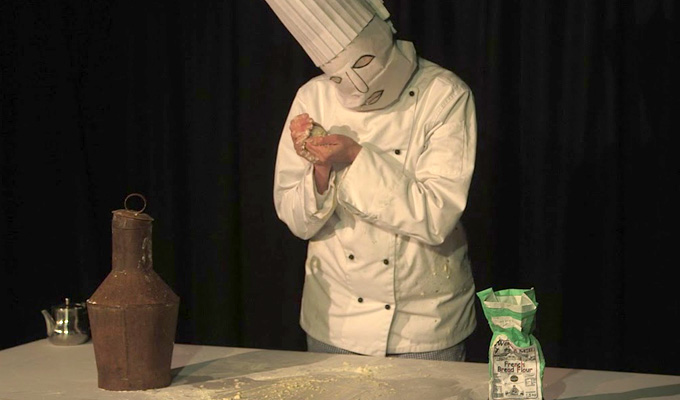 Janet
Any fears that alternative comedy is on the wane can be laid to rest with Janet, the tale of a headstrong lump of uncooked dough.
The offspring of Keith, a repressed English antique water jug, and Beryle, a packet of French Flour with notions of grandeur, Janet is a rebellious child, whose dreams are haunted by the ghosts of other loaves and who is determined not to fulfil her destiny of going into the oven.
This is all acted out on a kitchen table with the actual objects – also including Lady Gray, who's a stainless steel teapot and Derek the lascivious rolling pin. Doing all the voices is Helen Ainsworth, dressed as a chef, but with a hat that covers her whole face.
It is quite bonkers, but – unlikely as it may seem – we also come to care about these now unusual objects. Ainsworth is essentially a puppeteer, bringing the inanimate to life, each with their own personalities.
We start by laughing at the ridiculousness of the scenario – of which Ainsworth is well aware and duly milks – yet soon find ourselves invested in all the relationships. The piece could be seen a parable about escaping parental and societal expectations to become your own person – but that might be projecting too much on to a lump of dough, even one so expertly manipulated.
Even though the show endures beyond its initial novelty, a full hour is a stretch, and there are lulls before each new bit of absurdity or surprisingly edgy plot turn injects fresh momentum.
But for her wild imagination – and the skills to make an apparently impossible premise come off with this level of panache and engagement – Ainsworth and her director John Mowat deserve plenty of credit. You almost certainly haven't seen anything like this before.
Review date: 13 May 2019
Reviewed by: Steve Bennett
Recent Reviews
What do you think?