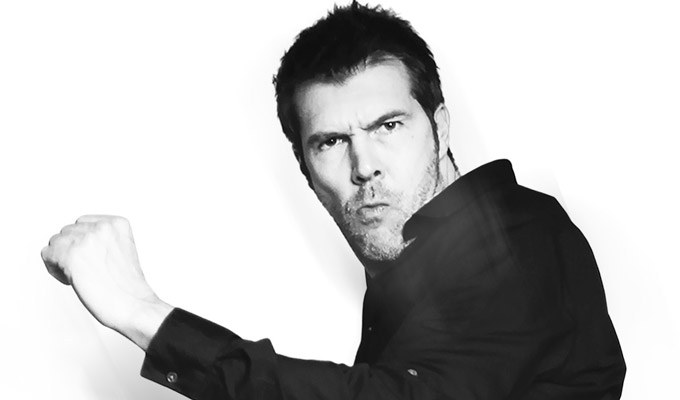 Rhod Gilbert: The Book Of John
Rhod Gilbert made his name as the maestro of wildly disproportionate fury, erupting into epic outbursts of outrage about such trivialities as hubristically labelled mince pies or the tog rating of duvets.
But, now 50, real life has got serious. In the six years since he last toured his stand-up, his mother died after being struck by Alzheimer's, his father had a heart attack, he had a mini-stroke himself, while sitting on the toilet, and he's facing up to the fact he might be infertile. These major events are rightly on his mind, but how to address them without fundamentally changing the style of comedy he's so good at?
Enter the titular John, whom Gilbert employed as a driver after his health scare stopped him from getting behind the wheel. But more than a chauffeur, John is God's gift to comedy – a man of great ignorance but also of great certainty in his insane opinions.
Gilbert is the first to admit that John was the inspiration for his return to stand-up, since simply chronicling his driver's outlandish proclamations filled a book, and now much of this near two-hour show.
John's batshit notions on everything from George Michael to the Icelandic fishing industry keep the comic – and us – brilliantly entertained by the audacity of his dumb logic, while providing plenty to raise the hackles of this ever-contrary comedian. In this post-expert world of Trump and Brexit John might be an avatar for greater insanities, too – an idea GIlbert touches upon but does not labour.
How much the comedian has exaggerated John's insane views, if at all, we cannot know – but it certainly gets his blood boiling, and soon he's raging around the stage in his animated, vein-popping fury of old.
These moments are a brilliantly funny comic counterpoint to the more serious issues Gilbert wants to discuss: primarily the taboo of male infertility. 'How many of you have got a low sperm count?' he asks. Only one smart-arse cheers smugly, although it's statistically improbable he's the only one.
Of course, speaking about spunk is inherently amusing, and Gilbert certainly isn't the first middle-aged male comic to talk about wanking into a beaker in the name of medicine. But his excruciatingly vivid description of his visit to the fertility clinic, from the indiscrete receptionists to the hugely embarrassing mistakes his nerves drove him to make, is a farcical tour-de-force.
Some moments in this show are more difficult to make funny, such as Gilbert hitting a low on a train while a very insistent group of lads – who clearly hadn't seen the comic's documentary on social shyness – jostle him for a selfie.
But generally, in Book Of John Gilbert has found a way to bring up the under-discussed issue of infertility and address issues close to his heart without drawing deliberately on his emotional well or adding a tone of gravitas to overtly stress the art of what he's doing. These factors instead more subtly underpin the story, which also evolves as Gilbert comes to have a more nuanced relationship with John, a man ultimately more three-dimensional than the idiot first portrayed.
Gilbert's passionate, righteous rants are as devastatingly hilarious as ever, and while the topics he's covering reflect a new maturity, it is not at the expense of laughs.
• Rhod Gilbert is touring The Book Of John until the end of the year. Dates.
Review date: 29 Apr 2019
Reviewed by: Steve Bennett
Recent Reviews
What do you think?