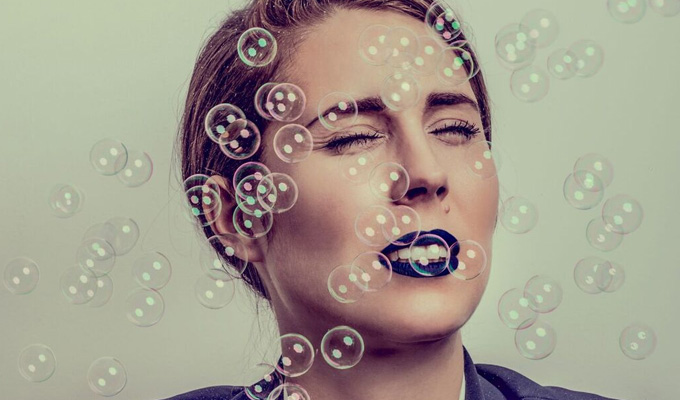 Stevie Martin Vol.1
Stevie Martin presents her first solo show - one of only beginnings. ('Middles and ends are gone') What sounds at first like a conceptual quirk is simply hollow cover for both not being able to settle on one particular begining and, unfortunately, a distinct lack of material throughout a resultantly structureless show.
What follows is - literally - an hour of potential show beginnings. Among the weak ones (flying dolls and Victorian plays) are genuinely funny ones - a great send-up of surreal comedy, an unexpected luge entry, and a random Shania Twain throwback. But it's all a bit '6th form drama class' and smacks of randomness in place of substance.
Undeniably, the response from Martin's captive audience of fans is fantastic from beginning to, well, all the other beginnings. Her great energy and honed audience rapport do partially fill the material's gaps.
Something that comes firmly to the fore is her running commentary on her own performance - she highlights her errors, word slips, positives and negatives. In these too-rare glimpses of her real self it's apparent she's likeable and naturally funny. She could use this self-reflective commentary to her great advantage, but needs more experience and authority to maximise its potential.
She also needs more truth. Her sketch-multimedia format almost entirely excludes honesty, ultimately to its detriment. Half an hour in, with it unavoidably clear there's nothing else coming, a stronger sense of who Martin is would only be of benefit.
Instead she rotates dancing, impressions of buildings, mimicking emoji faces et al in skits that are simultaneously try-hard and undercooked, somehow. There's also an angled slight on comedians 'just talking about themselves'. Fair game, however if she could, even if in sketch form, harness the truth of those comedians, her own show would better resonate.
Stronger sketches surface as the show continues, highlights including a 'woman podcast for women' skit and a fantastic parody of an extreme feminism show, compounded by photos of Martin at her worst ('The taking the bins out when you've got cystitis look').
With these segments containing good punches, the show takes a promising turn - it's the closest it comes to self-deprecating personal truth. There's also a welcome, more engaging subtext. Elsewhere in the hour any subtext present is bluntly revealed at the start of a sketch, then laboured for the following five minutes.
Notwithstanding her good energy and solid connection with an audience of fans, the idea of making a-show-of-just-intros is one that should have been dismissed early on, and the tangential lack of material more seriously addressed.

Certainly talented and funny, Martin has the potential and energy to become a great act, but needs development.
Review date: 20 Apr 2019
Reviewed by: Alex Bruce
Recent Reviews
What do you think?