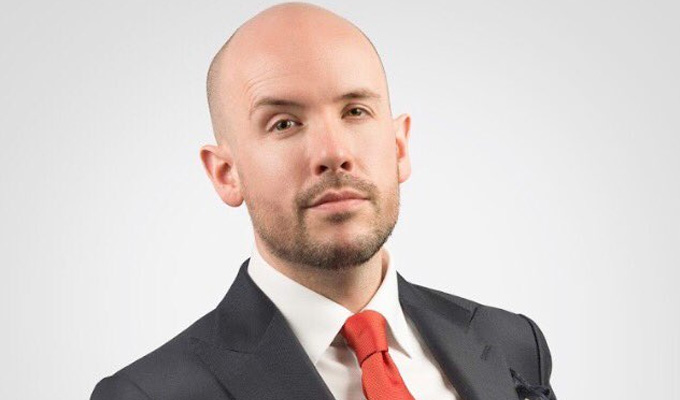 Tom Allen: Absolutely
It's exhilarating almost to the point of exhausting to watch Tom Allen in full flow, so relentless is the onslaught of jokes, reminiscences and – most of all – attitude.
With his superior bearing, impeccable dress sense and gossipy nature, he firmly belongs in the pantheon of camp comedians. He's gregarious and slightly flirty, in the most non-threatening of ways, greeting us all at the door to make us feel at home. But there's no doubt he intends to be the centre of attention for the following hour.
Indeed one of the cornerstone routines of his long-running tour show Absolutely – just nominated for the main award at the Melbourne comedy festival – tells of when he was momentarily overshadowed in a social situation. Invited to be the token gay at a hen party he was outraged to find himself 'out-gayed' by an interloper, if you can countenance such a concept.
It's almost as if he vowed never again to find himself in such a situation, so tooled up with so many anecdotes and imperious opinions that he has to crash through them at a dizzying speed just to cram them in. His haughty snobbery is so firmly embedded that he barely has to finish his sentences. Dismissing topics with a sardonic tag of '…you know' proves plenty withering enough, since we can fill in the gaps for ourselves.
That there's a lot of stress in his stories adds to the feeling of intense urgency. Whether it's the pressures of teaching or the expectations of a birthday party for six-year-olds, every minor pitfall and annoyance is magnified a hundred-fold. We'd hate to call him a drama queen, but, you know…
His script is tight as a drum, but he allows himself moments to ad-lib with the audience. He professes to hate it – interacting with the great unwashed, ugh! – but he's a master. Tonight, he improvises a bit about internet passwords that's pretty much as good as Wil Anderson's scripted routine on the same topic.
But, of course, it's not long before we're back to Allen himself, managing to be at once self-deprecating and supercilious as he speaks about finally passing his driving his test, then getting into a road rage incident, or conjuring up his working-class Bromley parents, as gruff as extras in a Guy Ritchie film (and that's just his Mum, as the old joke goes.)
The purposeful delivery builds to a fine climax, full of callbacks that don't feel too forced, bringing this lively and hugely entertaining hour of 'what were we thinking?' nostalgia, wittily exaggerated personal stories and waspish opinion to a satisfying close
Review date: 20 Apr 2019
Reviewed by: Steve Bennett
Recent Reviews
What do you think?