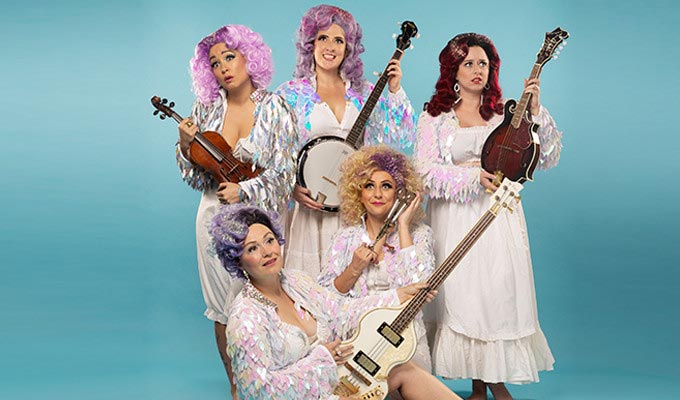 Fringe Wives Club: Glittergrass
One of the big cult hits of last year just got bigger, with the all-singing, all-dancing, all-arsing-about Fringe Wives Club adding two new members.
Extra people – also including a percussionist and double-bassist to back multi-talented multi-instrumentalist Victoria Falconer on keyboards, saw, kazoo and more – means extra oomph to their already high-energy performances. And this year they're presenting their trademark mix of boisterous cabaret and feminist agenda in the form of a country music hoedown.
Dressed in spangly white-and-pink cowgirl outfits and Dolly Parton-meets-Mrs-Slocombe wigs, this glittery five-strong, sometimes zany comedy team could be dubbed Diamanté Python. But I wouldn't stoop so low.
They kick off with a tub-thumping medley of empowering pop anthems to set up their own compositions, equally full of attitude and verve. But while pop's zeitgeist is increasingly sassy (thanks, Beyoncé) the rest of the world has a long way to go, which Fringe Wives Club never forgets given that they are driven by a sharp sense of injustice.
The assumption is that everyone here's already an ally to the cause, so no need to preach. Instead, they educate, celebrate – and sometimes fulminate. But above all, they entertain.
An early number urges us all to check our privilege, labouring a valid point a little. This is symptomatic of a self-indulgence that sometimes creeps in, especially during the between-song segues which straddle the line between enjoyably loose and momentum-slowingly lackadaisical.
But they are all powerhouse performers, in-your-face in a consensual way. Tessa Waters is probably the de facto leader, bundling the show forward even through her own indiscipline. Newcomer Sharnema Nougar, of Two Little Dickheads, brings a rambunctious comic energy that stands out even above the verve of the others. And Falconer brings a touch of class and a more wry approach. Rowena Hutson is underused, however.
The arrival, about 20 minutes in, of the other new Wife Laura Frew – dashing here from her stint as 50 per cent of Double Denim – picks up the already jaunty pace. She kicks off with a real rootin-tootin song about being scared of actively practising feminism in case she gets it wrong, but is encouraged by the others – a reassurance that works on the audience too.
Another stand-out section is fascinating as well as fun as they tell the overlooked stories of female bush rangers just as badass as the overexposed Ned Kelly. They are dead right: Jessie Hickman does need her own movie.
As the quintet outline various affronts – such as the men who still, even post-#MeToo, escape avalanches of sexual misconduct claims or the continuing, shocking, criminalisation of abortion in New South Wales – they demand of the audience: why aren't you angry?
The reason's simple: because we're too busy having a good time. But the messages will stick in the mind even after the songs fade.
Review date: 20 Apr 2019
Reviewed by: Steve Bennett
Reviewed at: Melbourne International Comedy Festival
Recent Reviews
What do you think?