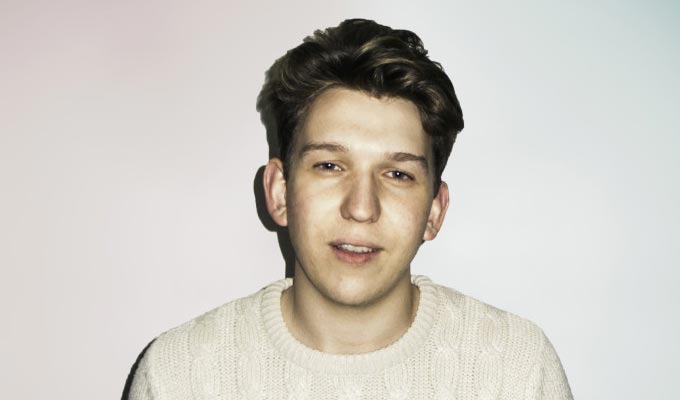 Jack Gramenz Is Trying To Win Best Newcomer
There's a big lie in Jack Gramenz's knowingly hubristic title: and that's the word 'trying'.
For very little effort seems to have gone into the material or presentation, which means that most of the show – which I suppose we must call it – just feels like a bloke having a bit of a chat. And I don't mean that in the usual complimentary way of describing how effortlessly good company a comic is, but because his material is so superficial.
There are very few punchlines, even bad ones, just an underlying attitude of entitlement without endeavour. Gramenz believes his ill-considered opinions and half-hearted observations are somehow worthy of our time and money.
This 23-year-old has a swipe at political comedians early on, complaining how earnest they have become as well as making easy jokes at predictable targets.
He hasn't really earned the right to be so dismissive of successful comics, and it comes across as pure arrogance, given how much of his show comprises half-assed observations on political stories such as the awkwardness of Malcolm Turnbull trying to rap when Prime Minister.
A lot of his asides are about the dominance of white men, too, which are intended to be self-deprecating. But he never follows up with a real gag, doing just the same virtue-signalling as he accuses others of doing.
You could have some sympathy: he's playing to four people at 6.15pm and continuously complaining about how much it is costing him to be at this festival in a city he doesn't really like.
If he was going to spend so much money, he might have something to say or some reason to be there, but no. In the 18 months, he's been unemployed since leaving a job in radio production, he's barely written a serviceable five minutes of material to spread over these 50.
He seems a decent enough bloke, and he's a certain enough performer not to make this small audience feel uncomfortable about the situation we're in, but the lack of application in this slightest of work is galling.
Review date: 20 Apr 2019
Reviewed by: Steve Bennett
Reviewed at: Melbourne International Comedy Festival
Recent Reviews
What do you think?