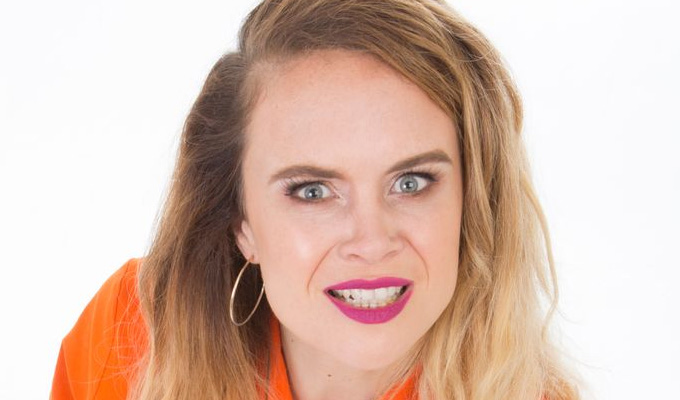 Joanne McNally: Wine Tamer
Joanne McNally's show – although helped by fantastic crowd work, pacing and audience rapport – flits randomly between invented viewpoints, some hilarious and authentic, others less convincing. It's disjointed, inconsistent and therefore frustrating at times, despite great rhythm and a high gag rate.
Following a protracted, slightly patronising second-coming-on-stage to bolster the energy of the Monday night audience, McNally introduces one strong, promising comedic premise after another.
She's 35, skint and forced to move into her mum's attic. Her surrounding analogies are funny, if a little forced. The routine strengthens as she describes how her new living situation means she has to to watch as her mum squanders her inheritance. This sentiment of wearied mother-daughter cynicism introduces a welcome dark edge.
McNally's pacing shows in the mostly constant laughs she earns examining various flawed ways to pay the rent: inheritance, acting, and – in a temporary feminism lapse – marrying a rich man. This takes us to a right-on dissection of male vs female Tinder dating approaches that's fresh despite being well-worn ground.
'Men worry the woman won't be hot; women worry we'll be murdered.' The ensuing ironic excitement at charging up rape alarms, and taking forever to get ready because the outfit must be carefully chosen ('We might die in it') is a highlight - revealing a subtext that elsewhere is absent or obscured. She's relentless and rhythmically well-refined.
The show suffers though, in flitting between too many tones and viewpoints. Granted, there's a satisfying juxtaposition between her false naivety and her contrasting no bullshit, cold hard truths. These two extremes are where McNally's best routines happen. But there's a hole in between.
There are simply too many conflicting voices, from naive to genuinely insightful, from hard feminist to subservient gold digger, from crude to sarcastic to silly. Each brings decent gags but it's just too much change. Consistency and clarity suffer - some jokes' intentions and targets are unclear and uncertainty creeps into an otherwise assured room.
Routines around financially using men contain good punches but don't land so securely because they contradict one of her most convincing voices - the fierce, sarcastic, powerful McNally. Not bad qualities of course, far from it, and they create the best moments. But also betraying that this subservient voice is less authentic.
By far her strongest suit is ad-libbing. The best lines and biggest laughs, without exception, come during crowd work. It's apparent McNally is naturally funny as she garners uproar with her wit and timing, telling an audience member who said her dog was adopted: 'Of course it is, it's a dog.'
Perhaps more opportunity for improvisation would extend what is evidently a great strength, and generate more of the genuine hilarity of which she is clearly capable, in place of some of the strongly telegraphed callbacks.
It's an hour of great promise, pace and some convincing routines. But an inconsistent middle ground and too many voices in the mix mean McNally's show ultimately lacks the cohesion it needs to compete with her presence.
Review date: 16 Apr 2019
Reviewed by: Alex Bruce
Recent Reviews
What do you think?