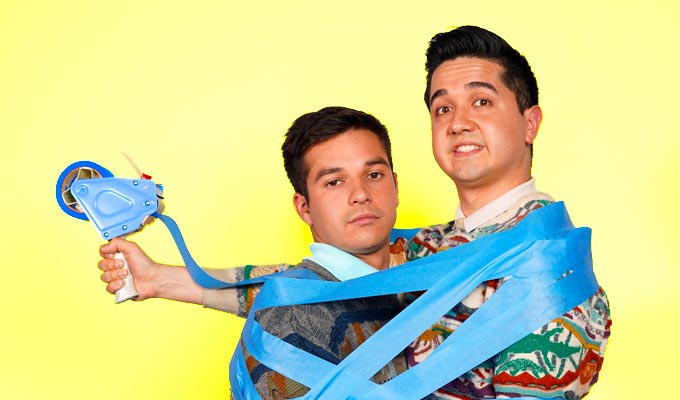 Lessons With Luis: Stickin Together
Lessons With Luis are all about gentility and kindness, so it feels like punching a kitten to report that this show is a weak offering.
Seven years after winning the Raw new talent hunt, the sweet notion of these naive, sweet-tempered siblings in their lurid jumpers is starting to wear thin.
The ethos of them being a sanctuary of calm good manners in a harsh world is certainly endearing – and appeals to a broad family demographic, judging by this audience – but only goes so far.
Stickin Together is based around the idea that pair are making a sitcom, in their usual guileless style. Luis and his brother Luelin are housemates John and Bobby, living in an apartment in space with their cat and a microwave. It is supposedly an educational endeavour, too, with Luis marking off when we learn about topics such as 'trust' on his whiteboard.
That nothing happens in the comedy is the joke, as is their twee and stilted dialogue. But that's a thin premise.
Away from the show within a show, there's trouble in paradise as the mute Luelin gets bored with the sitcom and grumpily refuses to take part. But then he gets back on board again, for no apparent reason, for the finale. Any nod to motivation would seemingly betray their character's innocence.
This last scene is the head-and-shoulders highlight of the show: a lively, exaggerated dance number in the vaudevillian spirit of ancient sand-dancing act Wilson, Keppel and Betty that really lifts the spirits. But it's too little, too late.
Along the way, a couple of scenes are funny for their wilful disregard for purpose, but they would only be truly effective if there was activity elsewhere in the show to take a break from. But there isn't, it's all very low-key and aimless – and proof that not every sitcom about nothing is the next Seinfeld.
Review date: 14 Apr 2019
Reviewed by: Steve Bennett
Reviewed at: Melbourne International Comedy Festival
Recent Reviews
What do you think?