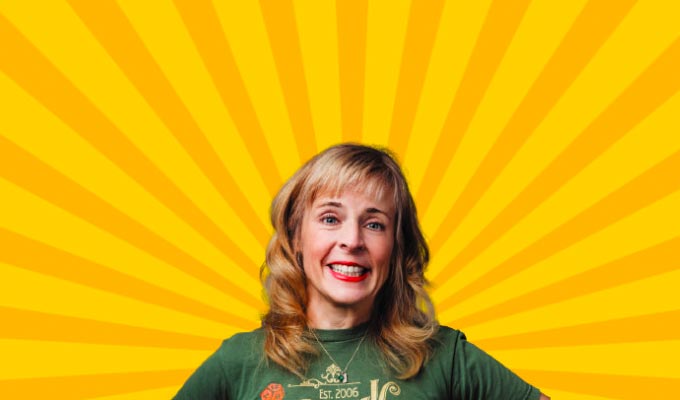 Maria Bamford: The Irrelevant Redundancy
'Weakness is the brand,' says Maria Bamford, a slight, fragile presence who built a career on being frank about her mental health long before the taboo started crumbling.
But The Irrelevant Redundancy reflects happier times. The meds seem to be keeping the bipolar disorder at bay, and once she looks beyond Donald Trump and into her own life she has cause to feel optimistic, especially about her four-year marriage.
Contented is not a natural place for Bamford to be, however, and the themes here are about how she and husband Scott are feeling their way in this new territory. After all, her template for marriage – her passive-aggressive parents Joel and Marilyn – is distorted, especially considering the strained relationship she has with them both.
Bamford is a 'show don't tell' sort of a comedian and illustrates these various relationships by acting out exquisitely offbeat scenarios with a concise enthusiasm. In tentatively exploring her relationship, she and Scott are depicted as participating in a politically liberal role-plays, such as making the living wage sexy. It may be an absurd scene but reveals as much about their uncertain dynamic as the story about how a home-decorating row exposed Bamford's vulnerabilities that is told with a much straighter bat.
Later, the differences between the atheist comedian and her Christian mother are played out like a sports clash, seeing who will win the moral high ground over a trio of ethical quandaries, in another peculiar but hilarious act-out.
Every scene is realised with Bamford's rightly celebrated vocal talents, which enable her to elicit a big laugh just from saying the word 'Melbourne' in an exaggeratedly terse manner. Sotto voce tones that perfectly encapsulate repressed middle-class privilege are another delight, especially when used to skewer a cruelly unsympathetic comment at a funeral. She animates her performance as much as her voice, too, with a vivid range of distorted facial expressions at her command.
Such talents are also brought to bear on more universal topics such as the vacuous new-agey bullshit that surrounds her, from insipid Instagram affirmations to the yoga retreat where she had the oddest celebrity encounter. But they are always taken from her very distinctive point of view: she doesn't even say the word 'yoga' like everyone else.
But she is always the most ridiculous figure in her stories, her parents probably excepted, whether recalling her ill-fated time on a celebrity baking show or getting an unexpectedly well-paid job giving an inspiring commencement speech at her alma mater.
Bamford has a unique mind, a curious willingness to examine it, and a distinctively quirky way of reporting back on the results, which makes this short run one of the highlights of the comedy festival.
Review date: 12 Apr 2019
Reviewed by: Steve Bennett
Reviewed at: Melbourne International Comedy Festival
Recent Reviews
What do you think?