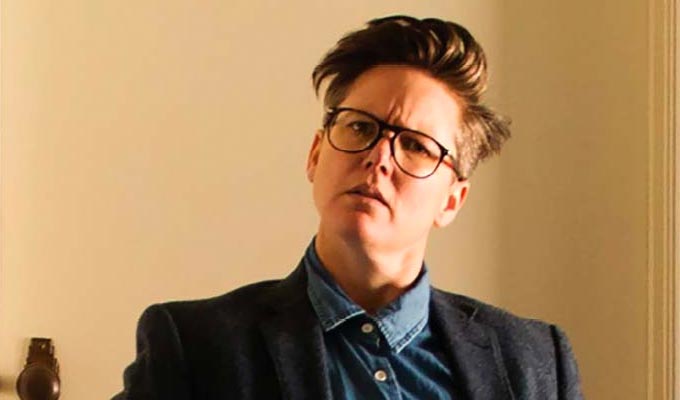 Hannah Gadsby: Douglas
Her last show, Nanette, was the mic drop heard around the world, as she laid down the uncomfortable truths about a Toxic society in an emotive tour-de-force – before leaving the comedy stage forever.
Or at least that what she threatened.
Thankfully, Hannah Gadsby had second thoughts about quitting the business after her powerful and profound cry became such a global phenomenon. And Douglas, her follow-up to a show that would seem impossible to top, is another triumph – funnier than its predecessor, if less gut-wrenching, yet still able to pivot from hilarious to the heartfelt in a heartbeat. It's clear Gadsby has so much more to say.
Given its purposeful gear changes, whether Nanette could be classified as a comedy at all became the subject of much debate, so it's apt that the labels we put on things is the thread that runs through Douglas.
And by 'we', Gadsby usually means 'men', making a convincing case that since just one segment of society came up with the names of everything, other perspectives are marginalised. She argues, too, that names have power: those describing Nanette as a monologue or a lecture rather than comedy were not simply trying to classify something, but to belittle it.
Then, to conclusively prove what nonsense that is, the woman who made a comedy show that wasn't always funny breaks out to perform a lecture that consistently is. She again turns to her love of art history to offer a wonderful commentary on some Renaissance masterpieces.
More conventional stand-up sections cover her trying to adapt to the alien Los Angeles lifestyle and her 'puffer fish' moments of getting het up with disproportionate rage about trivial items such as wooden spoons or Where's Wally? Traditional as these routines are – stick that in your pipe those who said Gadsby can't do 'proper' comedy – they feed back into her arguments about labels and gender. For men showing random flashes of emotion are passionate or frustrated, women are hormonal.
Even Gadsby's own doctor 'diagnosed' that in her behaviour – but it turns out that there is a more appropriate label for how she sees the world: autism. And as she discloses her diagnosis in the home straight, she brings the room to a rapt silence, as she opens her soul and makes an ardent argument for the way things should be, in the combination of belief and emotion that has become her trademark.
Comedy with a serious postscript may have long been a feature of the festival circuit – hence the spate of so-called 'dead dad' shows – if not the sort of stand-up specials that get broadcast on US television. But Gadsby is the Leonardo of the form, and in Douglas she has created yet another masterpiece.
Review date: 1 Apr 2019
Reviewed by: Steve Bennett
Recent Reviews
What do you think?