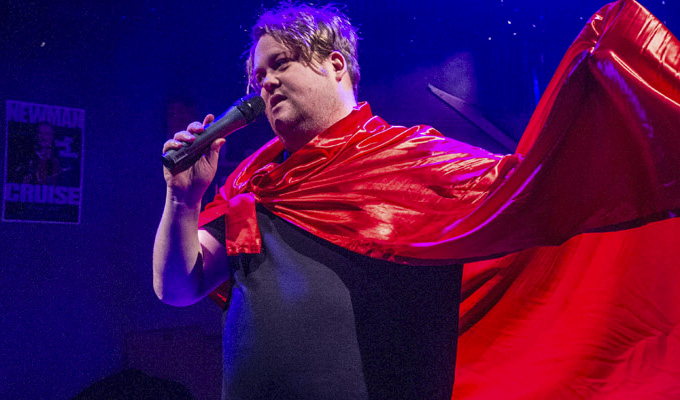 We're Staying Right Here
We're Staying Right Here, the new play being premiered at North London's Park Theatre, will do little to challenge the 'tears of a clown' stereotype of comedians – even though the fact that central character Matt is a stand-up is almost incidental to this powerful depiction of a man struggling with depression.
We do first meet him at a gig, riffing with the audience and running out a few uncredited lines from the likes of Tim Vine. But then fast-forward to him in his boarded-up flat, sleeping through to the afternoon, terminally unmotivated and crippled by fear of the dangerous world outside.
He shares the place with two others: Tristabel , the epitome of shabby louche very much in Withnail's mould, and Benzies, a more earthy, aggressive sort. And all three seem to run entirely on vodka swigged from the bottle.
They are forever bantering and bickering, trading 'your mum' gags and rating each other's quips. But though there is a dark humour to their interactions, an air of menace is never far from the surface. For the flatmates are bullies who personify Matt's insecurities: Tris is the manipulative toxic voice telling him he is not good enough ever to succeed, Benzies the embodiment of an aggressive masculinity the pitiful Matt knows he will never have.
There is a way out of their situation, which has ambiguous elements of Pinter and Beckett. There is a ladder in the centre of the room leading up to what could be a better life, if only they had the courage to tackle it. Instead, Tris keeps it clean and polished, planning the escape but ultimately paralysed by overthinking. For all are petrified of making the move, however grim life down here might be.
The more relentlessly aggressive interactions between the three can be hard to watch, and the cast and creators do revel in the shouter moments. But the humour leavens this, while the constant presence of the ladder adds some will they/won't they intrigue, further piqued by dramatic arrival of a fourth, mysterious, character who seems to be channelling Harvey Keitel's consummate fixer Winston Wolfe just before the interval.
Shoutiness notwithstanding, the cast under the direction of Jez Pike are uniformly excellent, from Danny Kirrane as the damaged everyman to Tom Canton's controlling Trisabel; Daniel Portman barely suppressing his frustrations as Benzies and Liam Smith as the ice-cool Chris, who in a slightly different guise finally offers some context for the more figurative elements of Henry Devas's first script.
The writing would benefit from a little more finesse, variety and editing, getting a little stuck in circular ideas and high-tension exchanges, but Devas's makes a good fist of what is a hugely ambitious aim, to portray the inner demons of a suicidal depressive as a bleakly entertaining night out. We're Staying Right Here does offer such insight, and rarely fails to intrigue.
• We're Staying Right Here is at the Park Theatre in Finsbury Park, North London, until March 23.
Review date: 14 Mar 2019
Reviewed by: Steve Bennett
Reviewed at: Park Theatre
Recent Reviews
What do you think?