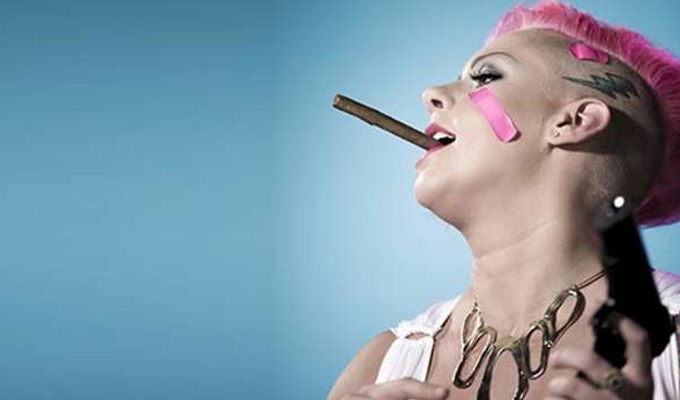 Abigoliah Schamaun: Do You Know Who I Think I Am?
Abigoliah Schamaun brings a lot of swagger to her latest stand-up show, as its title surely suggests. And not just in the bold confidence of her performance, she sometimes comes right out and tell us how great she is.
Fortunately, it's no idle boast. Right after a power-packed diatribe about gun control, she comments that it's worthy of a Netflix special – and you'd hard-pressed to disagree, given that its combination of passion, provocation and punchlines makes it her stand-out routine.
Her control of the room is underlined by fluid interactions with the audience, even when their responses seem initially unpromising. That she's even prepared to talk to the punters while filming this performance for her own-release DVD shows how certain she is that it'll turn out fine.
Schamaun, whose unique first name makes her the most googlable comic on the circuit, preaches what she practises, too, offering tips on how to be confident. Be more American, like her, is the short answer, and spurn the apologetic Britishness.
Her directness applies to her comedy, too, and she's quite happy to speak about anything on stage. She's certainly not the first comedian to recount the ordeal of getting a waxing, but she addresses it in a much more vividly frank way than most, as well as making it a gender issue by contrasting the horrors of the salon to manscaping. Her bluntness gives her another of her hardest hitting lines, in a brutally unsentimental reference to her dead father.
Schamaun has another routine where she mentions that since she's not a petite woman, the simple act of riding her bike while wearing a bikini becomes a political statement. And that surely also extends to other parts of her life – even though it probably shouldn't – whether it's being a female comedian or being bisexual, a statement which is never the end of the conversation whenever she mentions it.
However her attempts to reclaim offensive words such as 'retard' or 'faggot' aren't underpinned by any great intellectual weight or logic – in fact, the jokes are uncharacteristically cheap. She's simply using her considerable force of personality to get these gags over the line without denting her perfectly woke credentials. There are a couple of other segments that are similarly not quite as impressive as she'd have you believe from the way she sells them with her steamroller delivery – but not too many.
Do You Know Who I Think I Am?! has no overarching world view or inevitable conclusion which is slightly to its detriment as a rewarding hour. But it's undoubtedly a showcase for some commanding, punchy stand-up.
Review date: 4 Feb 2019
Reviewed by: Steve Bennett
Reviewed at: 2Northdown
Recent Reviews
What do you think?