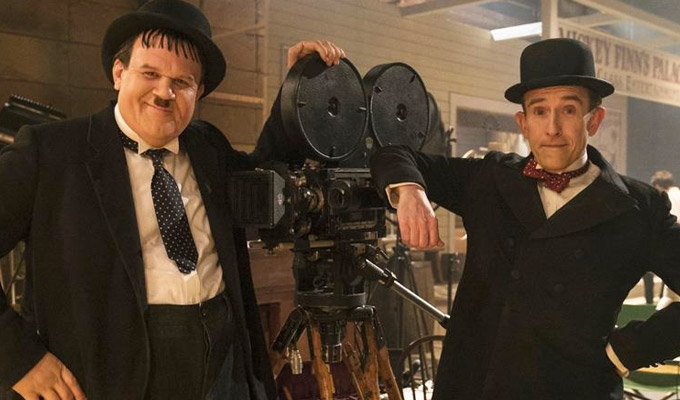 Stan & Ollie
This is an adorable film, sweetly melancholic, bathed in the golden (syrupy) light of a tender friendship. It will surely be a shoo-in for Christmas or Boxing Day TV for years to come.
Whatever your feelings about Laurel and Hardy, they are part of everyone's film experience, unless maybe you're at the young end of the millennial bracket.
I feel like I know who they are, what their films were, what their signature moves were, it seems as though they were on television when I was three and have been there ever since to enjoy or ignore.
John S Baird's film deals with the time after the glory days of the 1930s, when they were Hollywood's biggest stars (but a long way from well-paid) now grinding through a tour of the second level theatres of Britain in 1953 in the hope that its success will attract funding for a comedy Robin Hood..
The lead actors are impeccable, John C Reilly portrays an endearing, pathetic fat man, Ollie on pretty much his last legs and Steve Coogan is a revelation in a movingly restrained performance as the more driven and businesslike Stan.
They capture the physical comedy with lightness and balletic precision born of rehearsal and repetition, but it is the intimacy of the behind the scenes exchanges where sometimes just a long-held look conveys volumes of feeling: hope, disappointment, resentment and of course love.
The look of the film is richly nostalgic, with many scenes taking place in the lustrous Savoy Hotel, all glowing wood and gilt lamps or on impossibly gorgeous Pullman trains steaming through the kind of lush English countryside that featured in travel posters for years after.
Reilly uses the comforting shorthand of red phone-boxes, double-decker buses, Tower Bridge to summon up a London of emptier streets and full theatres, a biscuit tin illustration of the city that is very appealing.
At one point the atmospheric music swelled with such poignancy I wanted it to be dialled back a bit, I was already at full sniffle capacity and didn't need pushing over the edge, it teetered on the parodic for a few seconds, when the actors and the warm lighting had done the work to squeeze our hearts enough.
The supporting cast of wives – Shirley Henderson as Lucille Hardy and Nina Arianda at Ida Kitaeva Laurel – provide some lemon-drop-sharp repartee that spices up their scenes and Rufus Jones makes impresario Bernard Delfont splendidly oily.
If you need your heart warmed and to have some laughs along the way, this is will do the trick absorbing, amusing and sentimental, perfect winter viewing.
• Stan & Ollie opens in UK cinemas tomorrow.
Review date: 10 Jan 2019
Reviewed by: Julia Chamberlain
Recent Reviews
What do you think?