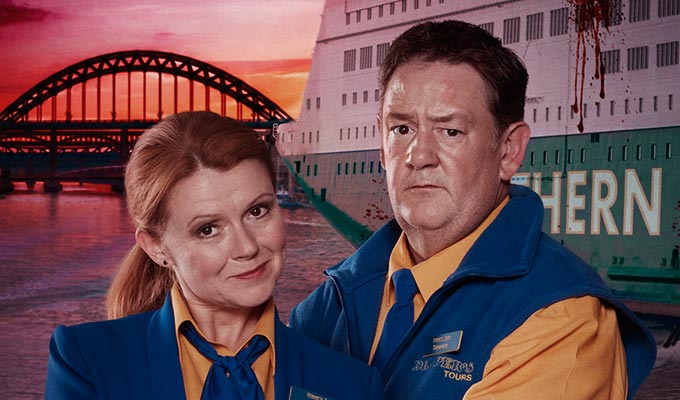 Death On The Tyne
Gold is primarily a reruns channel, so it's no surprise that its big commission is slightly old-fashioned in feel. Death On The Tyne is a feature-length murder-mystery-comedy, loosely in the mould of an Agatha Christie whodunit, and boasting a star-studded cast.
Such a format has already proved successful for the broadcaster, as last year's Murder on the Blackpool Express was the channel's most watched programme ever, with 1.8 million viewers in its first week. So there's not too much fiddling with the formula.
Johnny Vegas and Sian Gibson return as grumpy bus driver Terry and his more upbeat tour guide Gemma, the sole surviving employees of beleaguered Draper's Tours. Now romantically linked, their business is reduced to taking three pensioners on the Newcastle to Amsterdam ferry, the Empress of the Tyne.
Screen stalwarts Sheila Reid, Sue Johnston and Georgie Glen are delightful as the trio – 'Destiny's Child with osteoporosis'. Like all of the cast, they are clearly having fun camping it up on such t frippery.
James Fleet plays the silver-tongued Captain Jack, fully exploiting a lothario image among the easily-influenced blue-rinse set. It's his last voyage, though, as first officer Justin Valentine (Tony Gardner) is about to step into the role, pushed on by his social-climbing, high-maintenance wife Emily, the ship's cabaret singer. Doon Mackichan revels in her role as a self-obsessed wannabe Kardashian of the North Sea ferry world.
Before long, though, the bodies start to pile up. Sacked pianist Alan (Don Gilet), who's also Emily's bit on the side, looks shady. But the suspects might also include cruise director Denise (Felicity Montagu), DJ Bobby (David Mumeni) or barmaid Tracy (Taj Atwal).
The temper of the show is of light comedy drama, entertaining without being too demanding. With tones of Midsomer Murders for the drama and Dawn French's erstwhile Murder Most Horrid for the comedy, this is clearly aimed at a broadly family audience, if indeed families do still watch TV together.
The script, again by stand-up Jason Cook, keeps all the plates spinning and keeps thing entertaining with plenty of witty flourishes, but the film is rarely laugh-out-loud. The joy is in seeing familiar, well-liked actors going their paces, their comic charisma drawing you in until you do start to care about the whodunit element.
Death On The Tyne was clearly never going to be cutting-edge comedy or genre-bending thriller – Killing Eve's still on iPlayer if you want the latter – but it's effective in its job as diverting, convivial, but ultimately undemanding mainstream entertainment.
• Death On The Tyne is on Gold at 9pm tonight.
Review date: 15 Dec 2018
Reviewed by: Steve Bennett
Recent Reviews
What do you think?