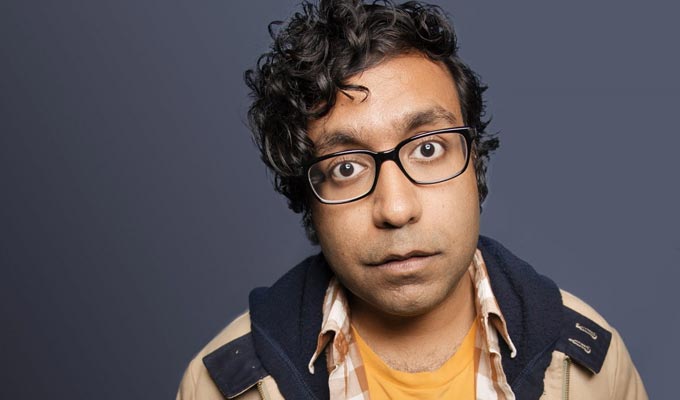 Hari Kondabolu: American Hour
Hari Kondabolu is conflicted about the reverence with which stand-up is treated in Britain. He likes that it's reviewed as an art form, but isn't sure that's what it is, noting wryly: 'No one heckles art.'
For he portrays comedy as an ignoble existence, financially unstable and socially embarrassing, especially for his status-conscious Indian parents. Does being a comedian still make you a loser even after you've a Netflix special, acclaimed documentary and international touring schedule to your name?
He makes minor grumbles, too, that the critiques tend to focus on how smart he is, not how funny – a point that dwells on his mind whenever he gets a more muted reaction than he expects, which happens a little more than you might think from such an well-regarded comic.
For American Hour has some great jokes underpinned by sharp observation, but Kondabolu, tonight at least, struggles to gain enough momentum to consolidate those into a great show. It's telling that the first big laugh he gets comes from a gag told to him by an inmate he taught at a prison's stand-up course.
There's no question he is socially astute and à la mode. He's keenly attuned to systemic racism – experience has given him no choice on that front – to sexism and to mental health issues, revealing himself to be a sufferer of depression. But however liberal he may be, he insists he's not part of the politically correct police, offering a slightly straightforward take on what such a force might look like.
On some issues, such as gun control or gentrification, he doesn't offer a great deal new and his comments on the difference between Britain and America are less sharp than his observations on being considered an outsider within the States. As a Hindu, his comment on what a nativity scene would mean without its religious context is priceless, while an amusing anecdote one Uber driver shared with him illustrates white privilege brilliantly.
Kondabolu's opinions on insidious racism were crystalised in his headline-grabbing documentary, The Problem With Apu, which raised the troublesome stereotype in his beloved Simpsons. He makes reference to the film here – 'genuinely hated by people who didn't see it' – but can offer no solution to the animation's dilemma. However the topic does provide a good payoff to his own routine, so well worht the mention.
American Hour is not all big issues, though: the mango gets its own routine, contrasted with the duplicitous papaya. In fact, there's no real theme to the show, which is called American Hour for that very reason, as the term is industry slang for the US approach to long stand-up sets, looser than the more structured British shows designed for festivals. But the fact that Kondabolu's routines are rarely connected contributes to the lack of momentum, as does his casual laid-back style.
Yet there is an underlying ethos for most of the show which is his questioning of the white, patriarchal status quo that considers breast-feeding ikky and comes with an inherent racism. His scratching at this surface is thought-provoking and amusing, if only sometimes hilarious. Sorry to propagate the idea of considering his intelligence over his funniness again.
Review date: 5 Dec 2018
Reviewed by: Steve Bennett
Reviewed at: Soho Theatre
Recent Reviews
What do you think?