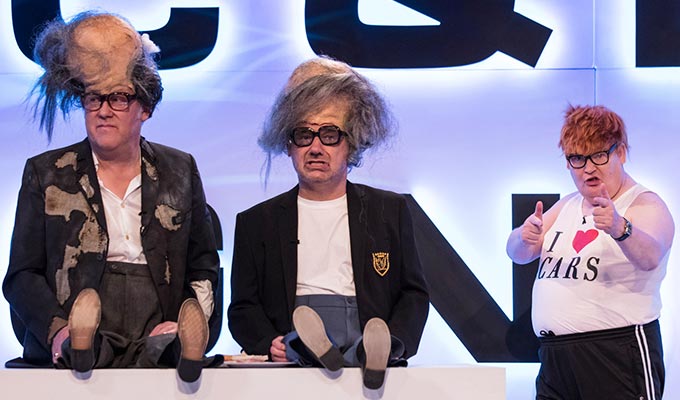 Vic & Bob's Big Night Out on BBC Four
BBC Four's limited comedy output is usually underplayed and subtle, so it's something of a surprise to find Vic Reeves and Bob Mortimer pop up here, given their unabashed grounding in light entertainment. Even if it is a peculiarly off-kilter form of the genre.
Maybe they've been around so long they now have cultural significance, worthy of being grouped together with the heritage rock and pop acts that get their own documentaries on the erudite channel.
But Reeves and Mortimer are no museum pieces, stuck in aspic. These four new episodes contain a few familiar catchphrases – or more accurately 'catch-moments', from frying-pan-thwacking to Novelty Island – but there's plenty of new invention within now-familiar sensibilities.
What shines through these BBC Four shows is an ever more carefree spirit than usual, maybe by dint of being on the more obscure channel or simply because they've nothing more to prove.
Shot in a very intimate studio, the show's strength is that it's simply two very old mates trying to make each other laugh stupidly. There's a looseness to the performance that keeps it fresh, and even they don't always seem sure of what the other is going to say.
Vic's home-made props and a seat-of-their-pants directorial style adds to this muck-about feel, and achieving the near-impossible task of capturing the unpredictable vibe of live performance.
In the word of Tom Cruise, who wanders on to the set. 'What'yre doing? Having a laugh and making jokes and that?' Exactly, Tom.
The pint-sized Hollywood Scientologist is, in fact, Vaun Earl Norman – the latest in the line of little-known deadpan oddballs Vic and Bob have employed as sidekicks, from Les to Angelos to that strange comedy creation Will Self.
Inevitably the desire to create afresh means a few favourites are ditched, and the loss of Judge Nutmeg is a crime in itself. Especially given that the Novelty Island act presented by 'Britain's only gay man' and his pet owl is a highlight, proving there is plenty of potential in old formats.
But with memorable non-sequiturs, bonkers new characters, daft slapstick and bizarre set pieces – corned beef has never been so erotic as one scene here – the new incarnation of Big Night Out is a delight. The Keep On Trucking Sandwich Club segment may be little self-indulgent, but these two have they've certainly earned it, and it's a small quibble.
What's often overlooked is the musical element of Vic and Bob's act, and here the opening number telling all and sundry to Shut Up! could be a lost post-punk classic. And the closing song, You Can Do It, should be an instant classic for all fans.
It should also be a message to BBC executives considering whether to commission more episodes, from this ever-inventive duo who remain on peak form.
• Vic & Bob's Big Night Out is on BBC Four at 10pm tonight. Click here to read them talking about the show.
Review date: 28 Nov 2018
Reviewed by: Steve Bennett
Recent Reviews
What do you think?