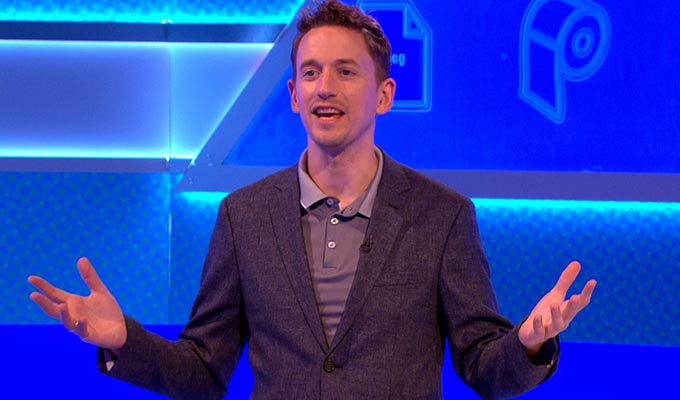 Beat The Internet With John Robins
Dave's new gameshow Beat The Internet With John Robins is a very cheap production, which tries to make a virtue of its parsimony by wrapping it in a postmodern irony. It only partially succeeds.
Although airing at 8pm, the programme feels a bit like a daytime quiz that's come free of its moorings, both in the schedule and its sensibilities.
The core premise is that the contestants must guess how search engines autocomplete phrases such as 'Why do I have a phobia of…', thus reflecting the most common requests. It's Family Fortunes, basically, without the tedious and presumably costly faff of going into the streets to ask 100 people anything. There are variations, such as a picture round that is a bit like Only Connect, but for Pick Me Up! readers, but only slight ones.
Robins presents in full-on Alan Partridge mode, albeit a self-aware version – so without the main factor that makes the Steve Coogan character such a great comic creation
For example, as he goes down the line of contestants Robins asks: 'Do you want to beat the internet? Do you? Do you? How about you? Do I? Of course I do!' while answers are greeted with utterances such as 'bang!' or 'don't mind it!'
There are sideways glances to a second camera that are as cheesy as his commentary, as he makes plain the corniness of the whole venture. He's at once trying to embrace it and stay at arm's length, which is quite a tall order.
To counter this is fellow stand-up Sunil Patel, deadpan in the Richard Osman sidekick role, occasionally lobbing in a fact or two heralded by an air horn entirely inappropriate for his low energy.
Both comedians' shtick is quite entertaining, though it doesn't entirely overcome the very obvious shortcomings of the simple game – and wears a little thin over back-to-back episodes. Maybe the in-jokes will become a cult phenomenon, like Robins's Radio X shows with Elis James, but early episodes struggle to strike the correct balance between taking the piss and playing a decent game that, for instance, 8 Out Of 10 Cats Does Countdown largely gets right.
• Beat The Internet With John Robins is on Dave at 8pm tonight.
Review date: 15 Nov 2018
Reviewed by: Steve Bennett
Recent Reviews
What do you think?