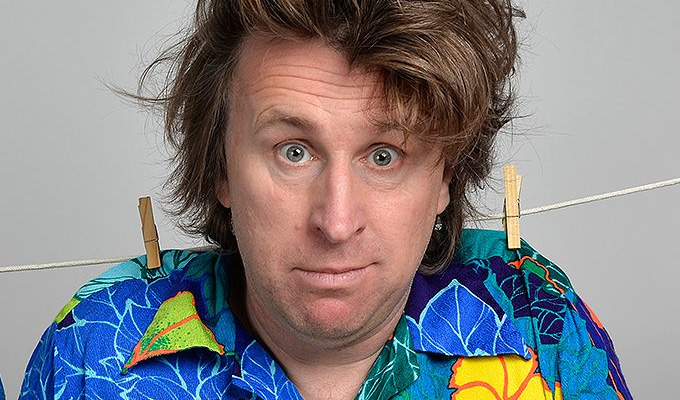 Vodafone Comedy Carnival: Milton Jones and others
The Vodafone Comedy Carnival isn't the only reason to visit Galway in the last weekend of October. For as dusk falls on the city on the Sunday, thousands of people line the streets for the Macnas parade, a magnificent display of artistry featuring scores of fantasy characters, wonderfully realised in exquisite detail by a huge team of craftsmen and puppeteers. Then the crowds, many in detailed Halloween costumes themselves, disperse into the many bars this lively town has to offer for a big party night.
It's all very wonderful (and then raucous) – though it does have an effect on the comedy festival's early-evening show in the main Spiegeltent venue, kicking off just after the parade's creatures have disappeared back into the night that spawned them. Despite a great line-up, headed by Milton Jones, the venue is barely half full, making something of a nonsense of the in-the-round staging, since the audience would easily have all fitted on one side.
Host Angela Barnes exudes the impatient air of a woman who's given up entertaining bullshit now she's in her 40s, railing especially against the tyranny of other people's expectations. There's not a huge amount of banter to her compering, especially with this rather quiet crowd: instead, she cracks on with what she wants to say.
Anyone with a bingo card of hack comedy clichés could get a full house while Totally Wired are on stage: imagining us thinking 'Ant and Dec have let themselves go'; impressions of Arnold Schwarzenegger and Robert De Niro, cheap innuendo of the 'thank you for coming' style; commenting that they are 'available for children's parties'.
They've got an infectious jolly bonhomie and occasionally reach a little higher than the lowest-hanging fruit – a bit about Gerry Adams had some bite – but the lack of ambition is striking even if their spirit is entertaining.
Sporting as much tweed as an entire hunting party and the sort of facial hair rarely seen outside of the staff rooms of Victorian boarding schools, Simon Evans cut a patrician image, and his stand-up comes with all the sense of entitlement the look suggests, apparently certain he has all the answers and ready to lecture us on them.
He sounds so authoritative, considering he's a man who never remembers what he went upstairs for, a side-effect of being 53. Though behind the old duffer act, a sharp mind is at work. He's self-aware enough about the image he projects to soften the edges, though the reticent audience didn't entirely get on board with his detailed routines. Their loss.
More relatable was Kerry Godliman – as seen as Jack Dee's long-suffering wife in the just-finished second series of Bad Move – in broadly the same territory as Barnes as a middle-aged woman losing tolerance with the world, pouring scorn on everything from the uniformity of men's fashion to her incomprehension of emojis, often with a stinging turn of phrase.
A couple of her routines come from familiar set-ups, such as how Facebook has made stalking an ex so much easier than in the olden days, but her authenticity and witty descriptions elevate them. Generally, there's a sense that life's a grind for this mum-of-two, but the stand-up stage is where she can vent the frustrations of her life, with a barbed, jaded attitude many will recognise.
The real world does not so much trouble headliner Jones, with his spaced-out look and surreal sense of humour. The eccentric one-liner king also proved he can be as devastatingly funny in ad-libs as he is in his well-crafted, offbeat gags, addressing the interjections of a particularly vocal woman without ever breaking his almost otherworldly character.
It's a persona that well entertains his punchlines which conventional thinking can never second-guess, making his gags as unique as his bright-shirted, wild-haired look. And a real treat that the absent half of the audience certainly missed.
Review date: 30 Oct 2018
Reviewed by: Steve Bennett
Recent Reviews
What do you think?