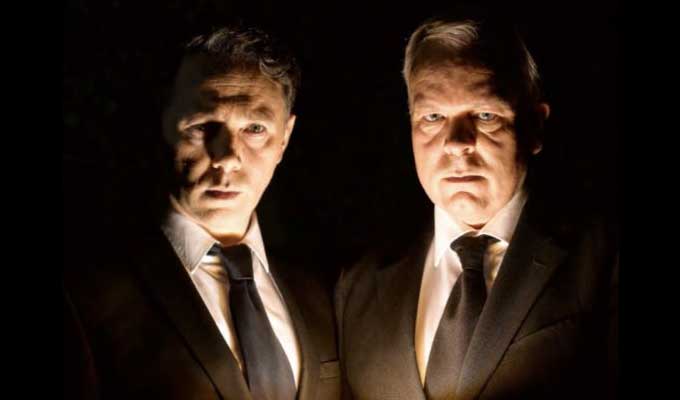 Inside No 9: Dead Line
This inevitably contains spoilers… you might want to watch the episode on iPlayer first.
Steve Pemberton and Reece Shearsmith love a gimmick, coming up with ever-inventive ways to present each of their Inside No 9 stories.
So a pre-Halloween live episode to mark the 25th instalment seemed a typically bold move, learning some of the lessons they learned from their more-or-less one-take episode of Psychoville to choreograph an as-it-happened broadcast.
But why have just one gimmick when you can use several? For the ghost story did not play out as expected. Which of course IS what you would expect…
The plot revolved around the efforts of Arthur Flitwick (Pemberton) to reunite a mobile phone he found in a graveyard with its rightful owner. Though it soon became apparent something was amiss, after receiving a call on the device from Moira (Stephanie Cole) and a visit from the local vicar (Shearsmith).
However, all did not go smoothly with the live transmission… the stars' microphones kept cutting out, prompting a cut to a 'normal service will be resumed as soon as possible' placeholder. But even when we returned to the Manchester studios, the gremlins were not fixed, and the live feed replaced by a rerun of the Quiet Night In episode.
Those watching with their Twitter thumb at the ready were quick to complain, or express frustration that all Pemberton and Shearsmith's preparation had been ruined by the glitches.
Oh how naive! More savvy viewers – and those who remember BBC One's groundbreaking 1992 Michael Parkinson-fronted spookfest Ghostwatch – would surely expect something more from the spectres in the machine.
After the live show floundered, the story took a more conventional narrative about restless spirits wanting interfering humans off their patch, although the way the story was told was grippingly inventive.
Real-world accidents such as a fire that once engulfed the studios and the heart-stopping moment Bobby Davro almost broke his neck when trapped in the stocks when a live TV prank went wrong were intercut with fictional elements.
There were also meta- elements in both script and in presentation, which provided much wry comedy. When Cole explains what she thinks is going on, Shearsmith tells her it sounds more like Black Mirror… Inside No 9 is 'more dark comedy and twists'. Later, the pair muse they 'should've got Pam Ferris' for the role.
In CCTV footage from inside their dressing room Pemberton and Shearsmith debate whether the ending of their story-within-a-story is strong enough, and even live-tweeted from their own show. Even the biographies of the actors were edited on Wikipedia to reflect what was happening - until the edits were suspended by the site because they were deemed 'vandalism'.
The manic montage proved unnerving, and was eventually intercut with first-person shots from the camera on the cycling helmet of Shearsmith's vicar character. It even, conveniently, had night vision.
With just 30 minutes to play with, the episode perhaps relied more on blunt shocks for its horror elements than genuine creepiness, especially given the familiarity of the eventual narrative.
But the execution was flawless and gripping; certainly creating another instance of talking-point TV from these masters of the unexpected.
Review date: 29 Oct 2018
Reviewed by: Steve Bennett
Recent Reviews
What do you think?