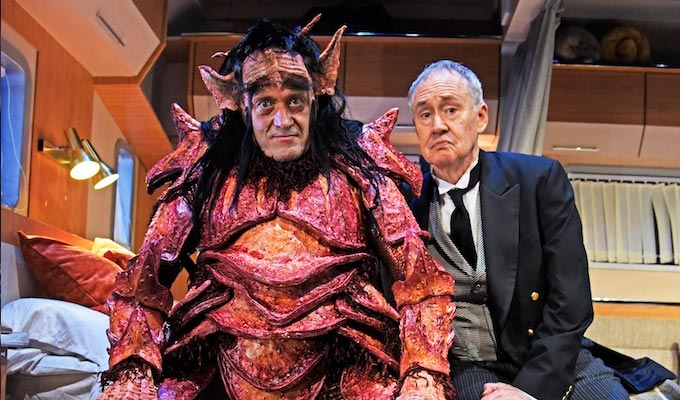 Vulcan 7, with Adrian Edmondson and Nigel Planer
'We may not be the young ones very long,' sang Cliff. And 30-plus years on from their ground-shifting comedy, Nigel Planer and Adrian Edmondson have become showbiz dinosaurs in this new play. Ade even looks the part in his scaly costume.
In Vulcan 7, they play two washed-up actors on the set of the latest instalment in a potboiler fantasy franchise. Planer is the erudite Hugh Delavois, whose plummy received pronunciation has landed him a recurring role in the series as an inscrutable English butler, while Edmondson is Gary Savage, the young hellraiser turned old drunk given a bit part out of pity from a sympathetic casting director.
They are a fire and ice combination, and the location of their film shoot is a metaphor for that: the side of the Icelandic volcano Eyjafjallajökull. There's seismic pressure in their relationship, too: they have a troubled history that goes back to their Rada days, amplified by the fact the mercurial Gary once enjoyed huge commercial success - though is clearly on his uppers now – while Hugh has coasted along dependably.
For the first half of this play, written by its stars, they bicker and snipe after Gary gatecrashes his colleague's swanky trailer, trying to claim it as his own. His awfulness is somewhat overplayed here, and the dialogue never really getting into gear, although it does throw up the occasional laugh for a well-placed theatrical burn. And Gary's struggles to navigate sexual etiquette for the first time in his ribald life amuse. 'I'm not Weinsteining you,' he insists after making a pass at runner Leela (Lois Chimimba).
Planer is no stranger to mocking the mores of the acting profession, given that he created the pretentious, luvvie alter-ego Nicholas Craig, but although well-performed, as expected, the characters are a little under-written, at least initially
Things get more interesting after the interval, however, as some jeopardy is introduced as the tectonic shifts of the mountain trap the perilously positioned on the wrong side of a crevasse, In a throwback to his Vyvyan days, Edmondson's Gary goes and headbutts the wardrobe master. The language gets coarser, the humour more defined and the stakes higher.
Gary goes from bolshie to maudlin after discovering some illicit wine ––Edmondson's a fine comic drunk even if his character gets pissed remarkably easily for a supposed old soak – and Hugh, too, reflects on his underperforming life, more sober but no wiser than his sparring partner.
The second half has strains of Beckett – Edmondson and his late double act partner Rik Mayall performed a great Godot, lest we forget. A storyline about Leela's possible parentage is a little bumpy and contrived, but adds another stress line to Gary and Hugh's fractious relationship, and an extra comic seed for gags.
As the piece, directed by Soho Theatre's Steve Marmion, reaches a dramatic precipice, the true emotion beneath the spiky bickering comes to the fore; and the final scenes reveal a poignancy to these creations. Whoever they play on stage, Planer and Edmondson are clearly not washed up just yet.
• Vulcan 7 is on at the Richmond Theatre again tonight, Malvern Theatre from Monday to Saturday next week, and Edinburgh's Kings Theatre from November 5 to 10.
Review date: 27 Oct 2018
Reviewed by: Steve Bennett
Reviewed at: Richmond Theatre
Recent Reviews
What do you think?