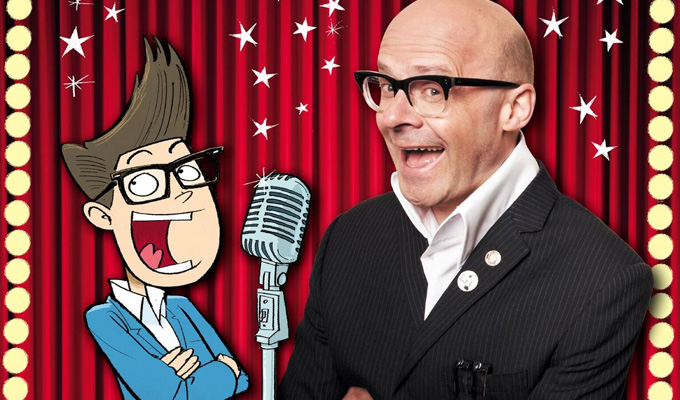 Harry Hill Kidz Show: How To Be Funny – For Kids!
'I'm available for children's parties' used to be a hack sign-off line for almost any stand-up with offensive material. But it's no longer a joke. Comedy for kids is a thriving part of the live scene, which Harry Hill has now embraced with this new family-orientated tour, his first in five years.
How To Be Funny – For Kids!, ties in with the release his new book Matt Millz Stands Up, about the world's youngest stand-up with big dreams. 'Who wants to be a comedian?' Hill asks his audience, and a couple of dozen small hands shoot up. No wonder the comedy circuit is getting so overcrowded.
The loose format of the show has Hill sharing some tips on how to achieve that goal, from 'steal jokes', his first, tongue-in-cheek suggestion, to the more crucial: 'Don't give up.' Though given the time dedicated to it, the most important lesson to learn about comedy appears to be in how to craft a custard pie – as seen on Piers Morgan last week.
At the end of the hour Hill gives ten aspiring stars, from the very tiny to one teenager who towers over him, the chance to take to the stage and share their gags, which range from corny Christmas cracker-style one-lines to nonsensical streams of consciousness, to a roast-style slam of Hill's baldy head. There is not such a huge leap from here to some of the lower-end open mic gigs.
On the way to getting here, Hill runs down different types of humour, shares some jokes from his favourite comedians, giving the youngsters a brief introduction to the likes of Tommy Cooper or Vic Reeves, and breaks into some of his own routines, previously performed in his nominally adult shows.
So he'll parade through the auditorium singing many TV programme names to the tune of No Woman, No Cry; offer a cheeky deconstruction of You've Been Framed; or get a man in the audience to quack on cue for a wonderfully stupid payoff. Some of the more layered routines are gone, but Hill's dappy surrealism prevails.
Speaking of comedy heroes, there's a bit of both Morecambe and Wise in what Hill does, owing a debt to old-school variety while making it his own. But this is a kids' show, so, yes, the front rows are obliged to get a soaking (a couple of well-prepared families even brought their own umbrellas). And, yes, there is the comedy of bodily functions – although seeing Stouffer, Hill's blue-furred feline sidekick, retch up his gloopy vomit in tense slow motion is very funny whatever your age. Some things are always funny.
The format is a bit stop-start, with uneven step changes between the elements costing a bit of momentum. And 11am is probably not the ideal time for comedy whatever your age. Hill himself seems gruff-voiced at the start of this Oxford performance, the first show of the tour, though any cobwebs are soon shaken off and he's back playing the fool: the epitome of the daft uncle, mucking about with exaggerated jerky dancing and singing the latest hits, entirely unbefitting a 54-year-old man.
Such silly humour, cartoonish appearance and overgrown-child demeanour has long made him a family favourite, especially since becoming ITV's face and voice of teatime with the likes of TV Burp. And the long, snaking line of kids that fills the foyer after the magnificently extravagant prop-based finale (again recycled from one of Hill's earlier tours) to get their books signed is surely testament to his enduring appeal.
• Harry Hill Kidz Show: How To Be Funny – For Kids! is on tour until the end of November. Dates. And click here to buy Matt Millz Stands Up.
Review date: 23 Oct 2018
Reviewed by: Steve Bennett
Reviewed at: Oxford New Theatre
Recent Reviews
What do you think?