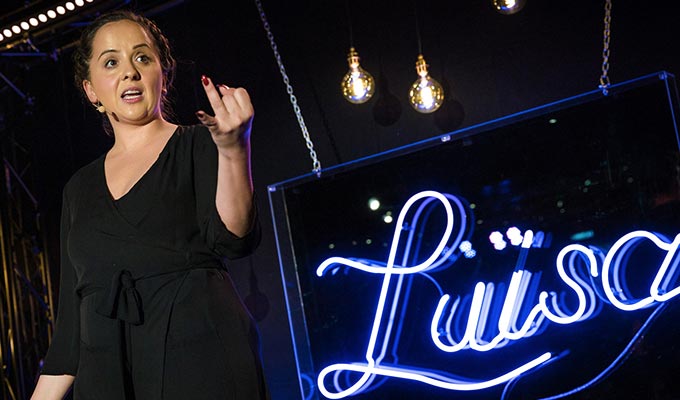 Luisa Omielan's Politics For Bitches
Commissioning Luisa Omielan to address politics makes perfect sense for the BBC's public-service remit.
She's a comedian who has proved more-than capable of connecting with a young audience; a demographic who have traditionally spurned traditional politics, even if they are engaged with particular issues, especially with their social media posts. Perhaps her livewire performance and down-to-earth matter could capitalise on that energy for the millennials BBC Three is aimed at?
But Politics For Bitches, which dropped on iPlayer yesterday, doesn't fully capitalise on the potential, with a format that can't decide what it wants to be and which dumbs down the politics until it's very superficial.
In the opening episode about housing, the whole complex problem is reduced to the conclusion that we need more safe, affordable homes. True, but just saying the government should fix it doesn't start to address the whys and wherefores. And Omielan's analogy that house prices should always be going down rather than up is asinine, even if couched as part of a comedy routine.
Maybe an in-depth analysis is a tall order for a half-hour show with the focus on entertainment. The first episode also includes scenes of Omielan performing stand-up, and some magazine-type elements, as she meets two innovators seeking some ways around the problem: the Property Guardians who temporarily occupy disused commercial buildings and the architect who believes the answer is a combination of deregulation and his miniscule pods that cram people into supposedly affordable space.
These aren't so far removed from the sort of segments you might find on the likes of The One Show, interesting if a little shallow. Although Omielan is shown to be a bit less respectful than many reporters – at one point she's clearly more interested in the crisps and chocolate biscuits offered than her interviewee, which can't help but trivialise the subject.
But the scene underlines the idea that she's only reluctantly engaging in the issues as they affect her personally, as her audience do. She's exasperated to learn that her £200,000 budget is barely enough for a parking space in London, and her outraged exchanges with the estate agent prove entertaining.
Unsurprisingly, the stand-up sections of the show are her forte, with routines shot in Cardiff, Liverpool, Belfast and Glasgow (though London seems an omission for this edition given how acute the problem is in the capital). She engages peerlessly with her crowd, and there are several witty and illuminating back-and-forths with audience members
Politics For Bitches doesn't really hope to find substantive answers, but it does succeed on its own metric of being 'informative and accessible'. And it will reinforce the feeling that the system is screwed – and particularly biased against the young – and that something must be done.
• Luisa Omielan's Politics For Bitches is available on iPlayer now and will be shown on BBC One on Wednesday at 11.15pm.
Review date: 22 Oct 2018
Reviewed by: Steve Bennett
Recent Reviews
What do you think?