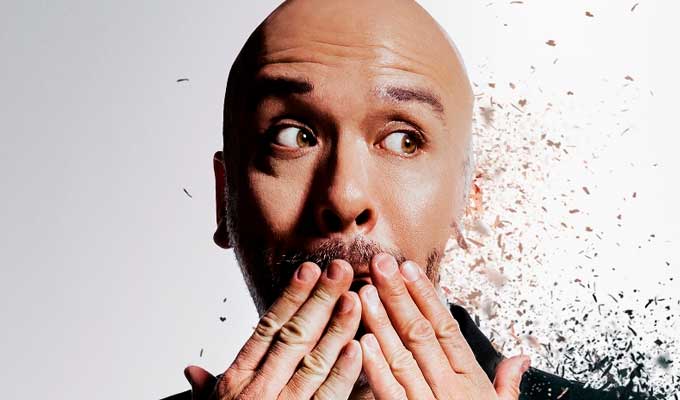 Jo Koy: Break The Mold
Two-and-a-half stars might seem an ungenerous rating for a comedian who made his audience laugh possibly harder than I've ever heard, and at an intensity that rarely flagged over an interval-free two-and-a-quarter-hour show, counting opening act.
But if you are in his target audience – Filipino like him – you can probably double those marks for observational comedy and nostalgia you can relate to… and there are certainly not many comics serving that market
In one section of the show, for example, is simply a patriotic boast about his homeland's cuisine, a fusion of all the nations hat have invaded. 'Adobo' or 'mungo' get deafening howls of approval. He needn't say anything about them, ad often doesn't. the shared bond of recognition is all that's needed.
I guess this is what Kalahari Bushman must feel like hearing Peter Kay recall Panda Pop.
The thrust of Break The Mold, however, is his rags-to-riches story. Today he has his own video introduction with a slick graphic featuring his name in chunky gold, displaying a similar level of low-key taste to Donald Trump (Koy's also got a red baseball cap with his own branding on, btw) and an animation which he tells us cost him dear.
But it was not always thus, and there's tell of his mother ordering him to steal napkins and ketchup from McDonald's, leading into a very long story recalling how he once forgot to take his lunch to school, to zero sympathy from his struggling single mum. And when he lost his prized lunchbox, the punishment verges on the psychological torture, the way he describes it.
How different things are now with for his own 15-year-old son, full of millennial entitlement, completely lost without his phone and never wanting for anything.
This theme of how the 'kids of today don't have to suffer like we had to' is not only a comedy staple, but probably goes back as far as recorded oral history. Koy's take is solid, and some of the imagery that he evokes peculiar to his family is vivid, but he overplays a fairly standard format.
Race is another big part in his arsenal, and he kicks off by telling us we shouldn't be so politically correct, eager to take offence at comments where there's no evil intent.
This is by way of introduction to his impersonations of how you can tell various Asians apart, which is meant with affection but seems very lazy comedically, just a batch of varying stereotypical accents from Vietnamese to Korean. Fellow Filipinos are not excluded of course, with Koy portraying them as always late – which means the crowd erupts when a latecomer arrives.
Despite the limited inspiration, Ko is in absolute command of his material and his audience. He's clearly having fun – he often throws his head back and bursts into excited laughter – and the audience are there with him. All except poor Sanj, who somehow fell asleep in the third row amid all the hysteria, and started snoring loudly.
All grist for Koy's comedy mill, of course, but really just an excuse to roll out some more stereotypes – Indians are all head-wobbles and probably work in IT; and what's the deal with Bollywood films? They are always bursting into song for no reason. It's a typically pedestrian observation, but lapped up by a sold-out house of eager fans.
There are a few stories involving either his son and his mother that shine, hitting that sweet spot between being universally recognisable and being true to him, bringing people into his experiences rather than excluding those who don't share them, which is a trap he sometimes slips into.
He's certainly found a new audience who are generally ill-served by comedy, and relates to them well. But as relative newcomers to stand-up, that audience are unaware of the tropes he uses; tropes which might seem tired to more devoted comedy-goers.
• Jo Koy is also playing the Shepherd's Bush Empire on Monday.
Review date: 5 Oct 2018
Reviewed by: Steve Bennett
Reviewed at: Leicester Square Theatre
Recent Reviews
What do you think?