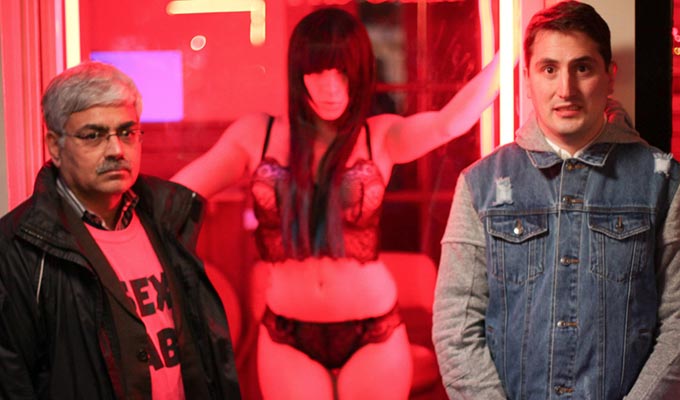 The Luke McQueen Pilots: Sex With My Father
After a disappointing opening episode that failed to make its mark among so many other awkward mockumentaries, the second of Luke McQueen's supposedly aborted BBC pilots is on a firmer footing. Even if the title star is outshone by fellow comic Mark Silcox, who quietly steals every scene he's in.
Silcox plays McQueen's adoptive father and together they are making a travelogue, very much in the vein of how Russell Howard, Romesh Ranganathan and Jack Whitehall have paired with their parents – a trend we are never allowed to forget. Rarely does a parody so heavily underline its subjects than this series.
But McQueen is dryly astute when it comes to picking away the artifices of such programmes, such as the scene in which he complains about his Amsterdam hotel room because he knows it'll make better TV. When offered a replacement he harrumphs: 'I don't want a different room I want to be unhappy in this one.'
They are in the Dutch city to explore the topic of sex, feeding into the notion that McQueen as an over-compensating virgin, as first floated in episode one. Rik Mayall, of course, nailed this personality trait best but McQueen makes a decent go of it.
As always you sometimes feel sorry for the real people embroiled in the prankster's boorish behaviour, especially the tour party in the sex museum forced to endure his deliberately bad penis-based jokes and attempts to undermine the real guide. When his shtick is to be the most irritating jerk in the room, that also means he's hard to like as a central character, a problem only slightly tempered by the fact he's portrayed as a lost soul.
But sometimes you have to admire his spunk, very much intended. For it takes quite some nerve to deliver poor quality stand-up to an audience expecting an X-rated live floor show, or to put in a truly orgasmic performance in front of strangers at a sex therapy session.
Yet for all these, erm, big, ballsy performances, it's Silcox's quiet deadpan that wins the day.
He's told that to be true to the genre, he must fill the role of comedy sidekick, despite confessing: 'I'm not a naturally funny person.' So he's genned up on the subject thanks to a book about Britain's best-loved comedy moments, and can now drop in punchlines and routines, from 'fork handles' to Del Boy's most-repeated pratfall, entirely out of context. This proves a fine conduit for Silcox's anti-comedy sensibilities that are usually a very acquired taste.
McQueen is accused on camera of 'trying too hard' to make the show funny, and there's certainly truth in that meta comment. such as his attempts to make the word 'and' his catchphrase, baffling everyone else. Indeed the meta comments themselves often try too hard, in a spiral of conceit.
But there's certainly a little more humanity behind the cockiness in this episode, making it more watchable than the first
• Watch The Luke McQueen Pilots: Sex With My Father here. It will also be screened on BBC One at 11.15pm on Friday.
Review date: 12 Sep 2018
Reviewed by:
Recent Reviews
What do you think?