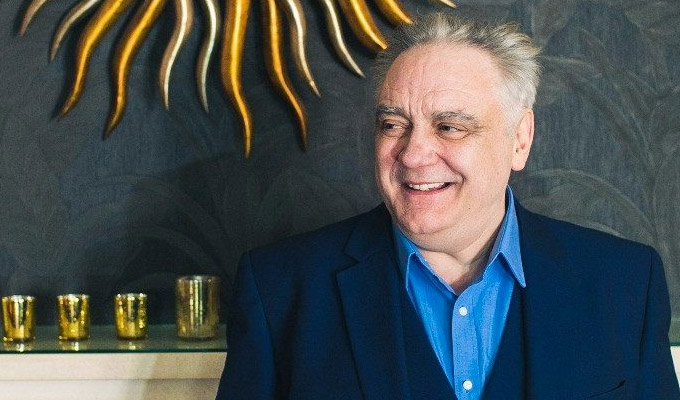 Tony Slattery's Crimes Against Improv
About the kindest thing you can say about this Tony Slattery comeback is that improvising with him is a true test of a performer. I don't know whether this was an off-night but I hope so, because he was incoherent, out-of-touch, pathetic and disrespectful to those on stage with him. At various points, it threatened to be car crash enough to be entertaining. But more often than not it was simply excruciating.
One hesitates to put the boot into someone who's had such well-documented troubles, some of which he alluded to tonight. But when your fellow improvisers are actively mutinying against you, you know there's something very wrong.
It had started so well. Following an introduction by comedy historian Robert Ross, with whom Slattery is also doing a series of 'in conversation' shows, there was great excitement to learn that joining them would be another Whose Line Is It Anyway? luminary, Mike McShane. Rounding out the troupe were comedians Allan Lear and Alastair Clark, plus actor Rebecca Vaughn and guitarist Ed Feery.
With the format a series of Whose Line? short-form games, they took audience suggestions for a game of Die, the idea being that each improvised around the topic of Plato and tennis until they dried, the winner being the last improviser standing. From the start, Slattery was off the pace that McShane and Lear were setting. And by the time of the follow-up game, Questions Only, McShane was already interjecting to make special allowances for his former colleague.
Unable to stop himself patronising Vaughn, there was a slight edge to Slattery's repeated mention of her five-star theatre review in the Scotsman. Even before he started getting a bit handsy with her though, he was quickly confirmed as the weak link in the show he was headlining, which unfortunately gave him special dispensation to interrupt the flow if another performer was stealing focus. Although he wasn't helped when McShane unapologetically and inexplicably referred to Martina Navratilova as 'a dyke', twice, the second game being abruptly brought to an end straight afterwards.
Yet with Slattery muttering to himself about bankruptcy and Prozac, the real psychodrama was only just beginning, creeping into the palpable tension between himself and Lear, who by this stage was having to do an awful lot of the heavy lifting to keep the show going. The pair have plans to further tour this show after their Edinburgh run. But whether their working relationship can survive seems doubtful.
With Slattery again patronising towards the younger man, Lear started to go rogue, returning the insults with viciousness and sniping about the unfolding disaster from off-stage. It was what the situation demanded and he was right to do it, getting the laughs required. But it was brutal nonetheless.
Meanwhile, while Vaughn, to an extent Clark, and especially Feery were often left criminally kicking their heels off-stage, McShane was picking up the slack, covering for Slattery's confusion over which game they were playing, contriving one of his trademark ad-libbed songs, a romantic number about a shovel, and reminiscing about happier nocturnal times with his old cohort in Edinburgh. Without him there, who knows what might have happened as Slattery was almost tearful in his appreciation. As it was, the show very nearly ended with McShane's trousers around his ankles and Slattery a quick tug away from exposing his penis on stage, with venue staff yelling at him to stop.
Dealing with the live hand grenade in their midst, McShane and Lear showed themselves to be truly gifted improvisers, while Vaughn and Clark proved themselves no slouches either, emerging at least with an interesting tale to tell of the time they worked with a legend.
Review date: 25 Aug 2018
Reviewed by: Jay Richardson
Reviewed at: Stand 1
Recent Reviews
What do you think?