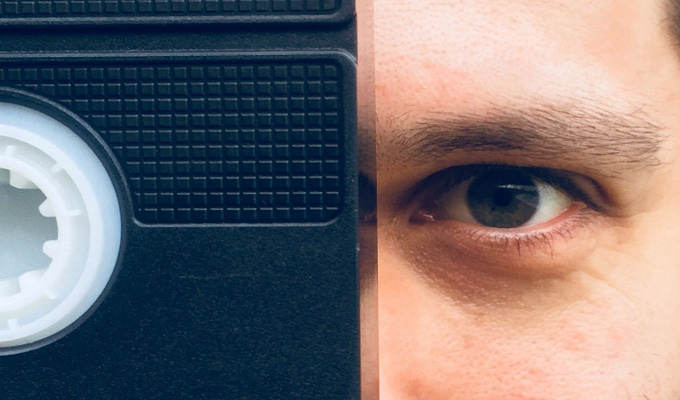 Jon Harvey: TreasuRETROve
Jon Harvey isn't a comedian as such, he's a writer and researcher who's worked on Have I Got News For You and Armando Iannucci's news satire Time Trumpet. But armed with some well-chosen videos and the ability to at least speak in public, he's got himself an excellent show that feels rather like a very funny best man's speech.
However, the real story of TreasuRETROve is something that neither I nor other audience members should say …
The idea of digging up obscure TV shows and films and laughing at them isn't new exactly, but it lives and dies on the quality of what the performer has unearthed. And Harvey has some absolute beauties to show us. His extensive collection of shark DVDs and VHSes is plundered for the most hammy, low-budget nonsense like Ghost Shark and Shark Attack 3: Megalodon, the latter of which has hilariously awful special effects in the pursuit of making sharks look as big as possible.
A subject that's clearly dear to his heart is a 1999 film called Parting Shots, which Harvey had the good fortune to see at an actual cinema. You wonder how this Michael Winner production even happened at all, let alone how the leading actor was cast (he's not an actor, not even tangentially).
Harvey is a pleasing, witty presenter – he's not really performing as such – who has a better knack for a well-written line than many actual comedians, and the same footage in different hands wouldn't make for such a good show.
After a potshot against the conveyer-belt of Marvel films – which allows him to introduce us to such lesser-known Marvel heroes as Asbestos Lady, and Pumaman – things start to get a bit intriguing. Harvey tells us that he got a job in the BBC newsroom, but feeling like a fish out of water ended up smuggling unpublished news footage up to the comedy department. That was how he came to work on Time Trumpet, which was set in the future and looked back on today's news events. He shows us a clip that he found that made it onto the broadcast, of David Cameron in his early days as prime minister talking to some Asda workers while trying to stay on message.
One thing leads to another and … well, that's as far as I can go. The second half of the show is devoted to this reveal and it's at least as good as the first half. All I will say is that you should go and find out for yourselves.
Review date: 14 Aug 2018
Reviewed by: Paul Fleckney
Reviewed at: Assembly George Square
Recent Reviews
What do you think?