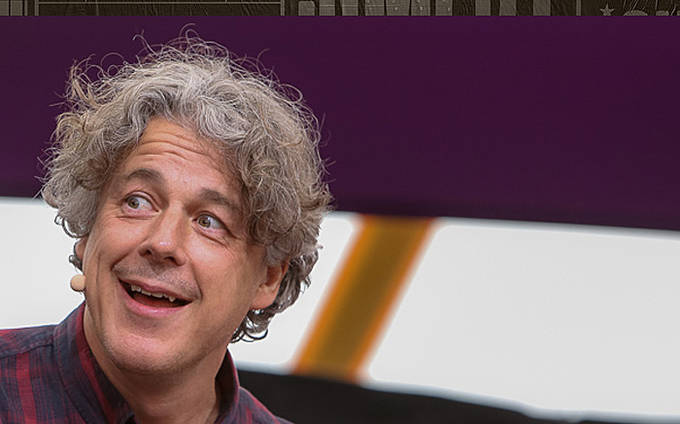 Alan Davies at Latitude 2018
Alan Davies has clearly lived the middle-aged version of festival life in the 24 or so hours between the QI session that opened the Latitude comedy arena on Friday and his own stand-up set. For he starts with some savvy observations about the event that strikes a cord beyond the usual, now-predictable quips about how middle-class it all is.
The segment establishes him as being in playful, spontaneous mood, with jokes that have clearly occurred to him within the last couple of days – including some about Donald Trump's unwelcome visit, too – and are as funny as they are fresh.
From here he offers some notes on politics, most notably the dubious wisdom of suggesting that we should arm teachers to combat mass shootings, which turns into a wonderfully sardonic version of how that would actually play out in British schools, with funding limits and petty bureaucracy.
But his favourite topic is nothing so grand as the state of the world – and that certainly wouldn't suit his persona as QI's resident dunce. Instead, Davies prefers speaking of the malfunctioning of the human body, both his own as 52 years on Earth take their toll (his barnet is considerably greyer than on telly), and his puking, shitting children – all of which are recounted with a visceral detail that's as hilarious as it is ikky.
And like every comedian of his vintage he has a story about going for a prostate exam – although Davies manages to turn it around so it's not him that's in the most embarrassed discomfort, but his poor GP.
Like the school section, these stories are part of his particularly British shtick of celebrating minor failings, in whatever form they take. And the routine is topped off with some mischievous comments about being a bad parent and how he can punish his kids physically.
It's an assured, deliciously roguish 45 minutes of stand-up that's identifiable without being trite and slick without showing it, thanks to Davies's harassed-but-bewildered everyman persona. A definite highlight of the comedy tent so far.
Review date: 15 Jul 2018
Reviewed by: Steve Bennett
Reviewed at: Latitude
Recent Reviews
What do you think?