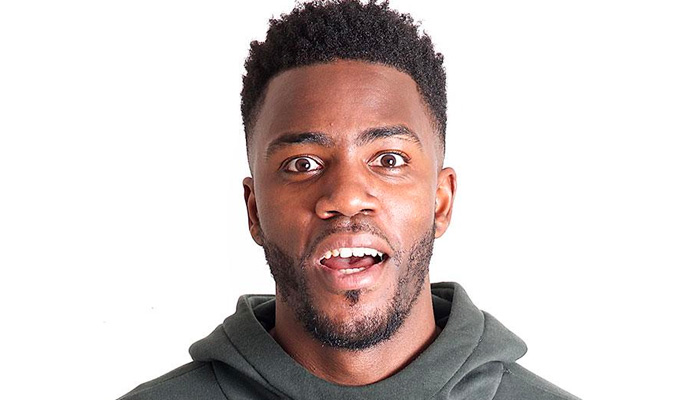 Mo Gilligan at Latitude
Mo Gilligan has shot to success via an unconventional route, building his fan base via character sketches online, largely bypassing the traditional industry until he caught the attention of TV executives. Now he can play the Royal Albert Hall, has landed his own Channel 4 pilot and plays second banana to grime star Big Narstie on his show.
But although Gilligan's rise might be slightly unorthodox, his stand-up is unapologetically in the mainstream. So many of his routines start 'remember when…' as seeks common ground through shared nostalgia.
He might joke that he's a token nod to diversity for the predominantly white Latitude, or use the fact that his father is a Rastafarian to offer a reggae-inspired spin on nursery rhymes, but he emphasises similarities more than differences.
Thus he tells the festival crowd universal stories about childhood days spent 'playing out', nipping home to raid the kitchen of ice lollies and crisps and begging his mum for spending money. Or at school, the thrill of finally seeing a teacher lose their cool. There's usually a joke at the end of this, but more important is the journey.
There's a universality to his appeal, too: Gilligan is a polite, personable young man, full of easy charm and likability, the sort of chap any one would be happy to spend time with. That more than compensates for a scarcity of quotable punchlines – and the fact that of the identifiable jokes, many are on the predictable side.
The familiarity of his routines achieves the difficult aim of being reassuring, rather than boring. His timing and understated control adds extra gloss, and he's talented at acting out the scenarios he describes – complete with accents as required, and occasionally embellishing them further with a soundtrack, making them almost into standalone sketches.
From describing generic mums' dancing to tales of outsmarting his teacher, this is not comedy of any profundity. But the most commercially successful comics rarely offer that. If you're looking for someone to follow in the footsteps of observational comics such as Lee Mack or Peter Kay, you need not look much further than Gilligan. And you probably won't have to wait much longer until he's as famous as those forebears, either.
Review date: 14 Jul 2018
Reviewed by: Steve Bennett
Reviewed at: Latitude
Recent Reviews
What do you think?