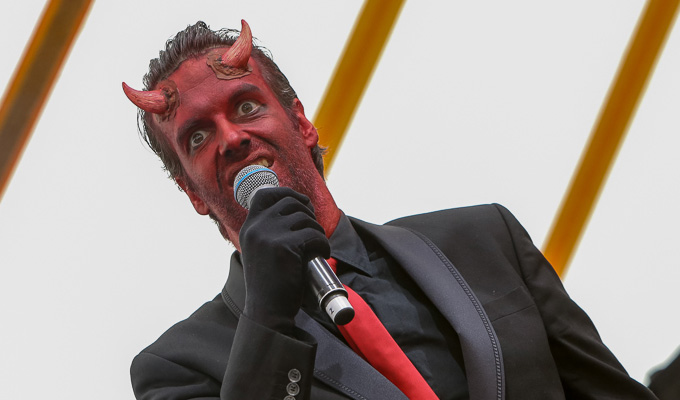 Marcus Brigstocke at Latitude 2018
Marcus Brigstocke, who is to Latitude what the ravens are to the Tower of London, has built something of a reputation for being the voice of liberal middle-class conscience.
Well, now he's switched shoulders to play not just Devil's Advocate, but Beelzebub himself, taking to the stage in full demonic make-up, horns and all. And this new approach for the Radio 4 favourite – retribution for selling his soul for those Experian ads, he suggests – is nothing but thorough, never breaking character for the 45-minute set.
But if the Devil has all the best tunes, does he have the best jokes, too?
Certainly at times. A little Biblical knowledge is rewarded with some wry jokes, such as the notion of him suing God or a variation on the Adam and Eve story, while he can also make a few sharp asides about those doing his bidding on Earth: Rupert Murdock, Paul Dacre, Donald Trump et al. The success of some of these figures suggests going evil may be a shrewd marketing move.
However the the main benefit of the theatrical device is in allowing Brigstocke to elevate petty irritants into new sins. Since traditional transgressions such as being gay are no longer one-way tickets to Hell with the more tolerant 21st century God, eternal punishment is now meted out for making grammatical slips, breaching tea-making etiquette and putting your bag on a chair on a busy train.
Many of these strike a chord with Latitude's audience, but it is surely a sardonic commentary on social media. Where everyday irritants and real big issues, such as ripping children from their families and jailing them, now have morals equivalency, just something else to fire off a tweet about.
Brigstocke's able to interact with the audience in his new Satanic guise, drawing on his decades of experience to play the room – especially mocking the guilty secrets of a certain teenage boy – and feed them into his narrative.
Given established comics can get caught in a run, becoming the embodiment of pure evil is a bold and interesting new direction for Brigstocke, so even if all the ideas are not yet fully formed, the notion offers plenty of comedy promise.
And the devilish persona still allows Brigstocke to launch into the sort of grandly epic routines for which he's become known. His analogy for Theresa May's plight – which evokes human sympathy even a die-hard leftie like him – is a hilarious, magnificently extend metaphor based around charity marathon runners that sums up her hopeless position perfectly. You might even feel sorry for her.
Review date: 13 Jul 2018
Reviewed by: Steve Bennett
Reviewed at: Latitude
Recent Reviews
What do you think?