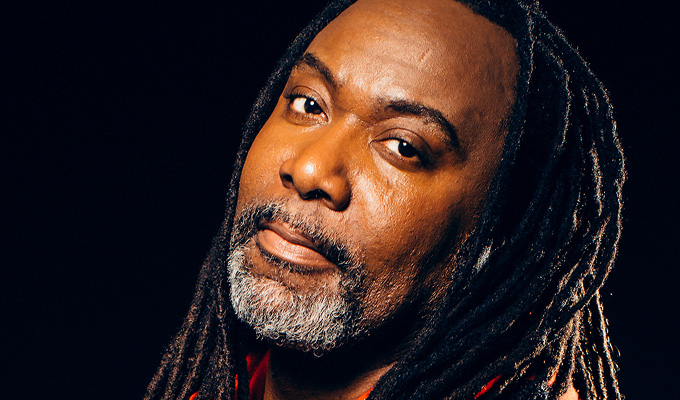 The Great Yorkshire Fringe Launch Gala
Not quite everyone was glued to the football last night. Though some audience members clearly managed to divide their attention between the comedy gig launching the Great Yorkshire Fringe and events at the Otkritie Arena, given how quickly news of Colombia's late equaliser spread around the room.
And when Eric Dier's winning penalty found the back of the net, the cheer from the Leicester Square Theatre dressing room was so loud it destroyed the delicate, pregnant atmosphere headliner Reginald D Hunter had built up with his quietly commanding delivery.
Still, it was something of a triumph for the show to go on at all, given the number of last-minute cancellations across the comedy board yesterday. This preview show –hosted by Ian Smith battling a smart-arse front row determined to trip him over – was not to be defeated by rival attractions, nor even the fact that few of the audience would be making the trip to York to see the shows being sampled.
Mitch Benn kicked things off by explaining why the festival was more important to him than other Edinburgh previews, probably a bit too much of a personal industry gripe for anyone to share… but then he had just sung about how it was 'too bloody hot to be funny', a track comprised almost entirely of synonyms for both hot and funny. Still, the song mocking Ed Sheeran's ubiquity was a cause the room could rally behind.
Free samples of York Gin were passed around next, to be sampled as part of the Thinking Drinkers' comic lecture. There was also free cheese, in the form of their pained puns, but they sell it with a certain elegance. Not to mention the promise of more free booze for anyone who attends their show.
Douglas Walker admitted his theatrical character monologue about Santa Claus and Rasputin was 'more art than comedy', and so it proved, especially out of context. Ben Pope had jokes about his very Catholic name and his repression when it comes to sex and drugs, which are amusing enough but don't mark him out from the pack on the basis of this very short sampler. And Shitfaced Shakespeare were present in virtual form, with a couple of their YouTube videos – very similar to Comedy Central's Drunk History – played for the room.
The second section started with comedy historian Robert Ross introducing Whose Line Is It Anyway? star Tony Slattery – and although their interaction was initially stilted, the legendary improviser upped the energy and created a memorable moment by stripping down to the waist and wrestling a volunteer audience member, who also bared his torso, down to the ground. Fun fact: Slattery represented England in under-15 judo.
'Newcastle Brown Male' Rahul Kohli came out all guns blazing with his impassioned invective about racism; John Pendall was a lower-key prospect with his stories of a homophobic dad; while Canadian wildman Craig Campbell mocked Britain's idea of extreme weather.
Just when you might be thinking the Great Yorkshire Fringe was a sausage-fest, part three kicked off with a couple of female acts: musical comedian Charlotte Brooke on safe ground with a couple of winsome ditties about gluten and Netflix (though her material between songs was spikier); and super-smart Australian stand-up Alice Fraser with some sharp one-liners on sexual harassment and the hand gesture for jerking off, and some very quirky dating tips.
Paul Sinha offered a precis of his autobiographical show, wryly joking about how he loved, lost, and loved again, and of how his Chase celebrity saved him from racist banter. Then classy spoken word/musical duo Harry & Paul laid down some tricksy wordplay, before Paul Foot half-baffled, half-amused the crowd with his in-your-face marmoset-based flight of fancy and his parade of inexplicable non-sequiturs. Niche is the word.
Finally, ponderous Hunter gave food for thought, as well as laughs, as he described his sibling rivalry with a mordant wit that survived the interruption of Dier's surprise match-winner.
Luckily, the World Cup will be over by the time the 11-day Great Yorkshire Fringe opens on July 19. For further details, visit the festival website.
Review date: 4 Jul 2018
Reviewed by: Steve Bennett
Recent Reviews
What do you think?