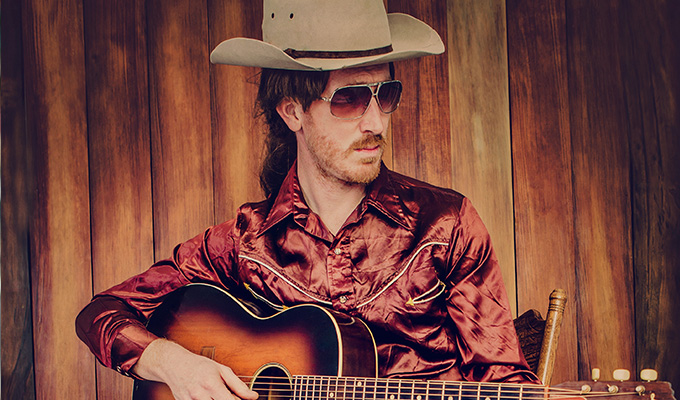 Wilson Dixon: For the First Time. Again
They take things slow in Cripple Creek, Colorado. Real slow. In this rural backwater, all there is to do is languidly strum your guitar and ponder the mysteries of life, wallow in heartache and take another slug of bourbon.
That's the atmosphere so evocatively realised by deadpan country singer Wilson Dixon as he hops on his barstool, six-string at the ready and ten-gallon hat in place, to open his heart about his dim-witted relatives, his strange horse Andrew, and his ill-fated relationship with the winsome Rebachel.
This doleful troubadour, making a return to the UK for the first time in almost a decade, certainly pulls you into his home-spun world, with songs that offer an affectionate take on a genre already rich with mordant humour. Songs such as You're Perfect In Every Way (Except One) and Love Don't Live Here Any More, You Do are definitely more homage than parody.
Although he starts with a couple of his greatest hits that pack in the gags, his show is more about storytelling than punchlines, in keeping with the laid-back ambiance of his world. Perhaps too laid-back at times, as there's little concern about how long it's been since he last laugh, even though we are engrossed in his company.
Absurd trains of thought and wry observations are his style, bu Dixon (the creation of Kiwi comic Jesse Griffin) can deadpan a delicious throwaway one-liner just as you're lulled by the soporific strumming.
Mixed in with the choice bon mots – the best of which offer a new take on familiar turns of phrase – are gags that may be a little cheesy, or easy to see coming, but Dixon's easy-going folksy charm certainly helps sell them. He's not the first to liken Donald Trump to a petulant toddler, for example, but his depiction is particularly vivid.
But that's the only mention of the Donald in an apolitical show, unless, of course, you see any parallel in Dixon's redneck brother who 'doesn't let lack of knowledge stand in the way of a strong opinion'.
Review date: 29 Jun 2018
Reviewed by: Steve Bennett
Reviewed at: Soho Theatre
Recent Reviews
What do you think?