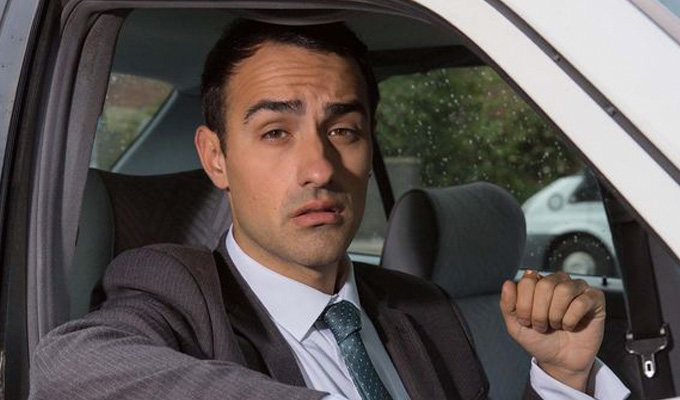 Stath Lets Flats
Every single-camera workplace comedy is likely to be compared to The Office, but David Brent is a paragon of professionalism compared to the letting agents of Michael & Eagle.
The titular Stath is the most useless of the lot, never knowingly having let a flat – even in London's desperate market – and struggling even to answer a phone without it turning into slapstick chaos. So you can imagine the Frank Spencer-like mayhem that ensues when he's dispatched to deal with a nesting pigeon in one tenant's home.
Funny as it is, Jamie Demetriou's creation is a little one-dimensional, stumbling from one calamity to the next, though his air of desperation fleshes out the creation a little, adding just a fleck of likeability to a rather arrogant, deluded incompetent.
We're introduced to him via a series of skits depicting him haplessly showing off astonishingly overpriced and under-par properties with an awkward fake jollity. (His helpful descriptions include comments like: 'The bench is very good for sitting on')
This opening sequence feels a little more like an online short than a sitcom, an idea cemented by the cheap titles, which look like they've been created on Microsoft Paint. However, these skits also kick things off with a slightly different vibe from most TV comedies, even if Stath Lets Flats soon settles into more conventional territory, albeit featuring far-from conventional characters.
For Demetriou, who wrote this tight script with Friday Night Dinner's Robert Popper, has surrounded his central grotesque with a good cast of fellow idiots. Sophie, played by Demetriou's real-life sister Natasia, is the dimmest of the lot, but there's something quite winsome about her naivety, and the way she thinks the most mundane sentence is 'hilarious' in her chaste, stilted flirtation with Stath's cripplingly unconfident colleague Al (Alastair Roberts).
Company owner Vasos (Christos Stergioglou) spends much of episode one yelling down the phone at an automated system that cannot understand his Greek-Cypriot accent. While Alex Beckett, steals scenes in understated style as the desperate-to-fit-in Muse-obsessed Marcus, his last TV role before his death in April at 35.
Meanwhile, Katy Wix's Carole, full of transparently fake but undeniably effective bonhomie, is the perfect irritant for Stath, competent, confident and utterly annoying. The slick Tom Stourton, at the posh rival agency next door, opens a second line of attack on Stath's myriad insecurities.
All in all, Stath Lets Flats feel like a doer-upper: a solid build that offers plenty of potential, with interesting character detail that could become major features. It's early days yet, but Popper has a strong track record of combining broad physical humour with cringe-inducing situations that are well-matched to Demetriou's inept alter-ego.
Viewing recommended.
• Stath Lets Flats is on Channel 4 at 10pm tonight.
Review date: 27 Jun 2018
Reviewed by: Steve Bennett
Recent Reviews
What do you think?