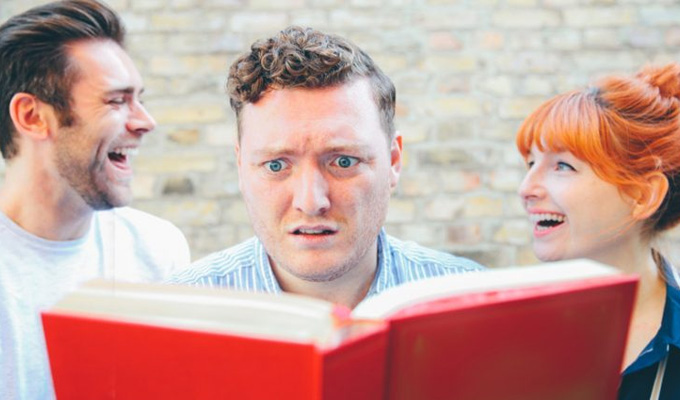 My Dad Wrote A Porno at the Royal Albert Hall
It probably wasn't the edifying, erudite entertainment the buttoned-down Victorians had in mind when they constructed the Royal Albert Hall.
And it almost certainly wasn't where Jamie Morton thought he'd end up when he recruited pals Alice Levine and James Cooper to start a little podcast, reading out his father's dreadful attempts at erotic fiction.
Their achievement in filling this magnificent venue with My Dad Wrote A Porno fans – and not just playing it, filling it to the rafters – is nothing short of astonishing. Last night's performance was the biggest live podcast event ever, and it'll take some beating.
Not that there was much concession to the grandeur of the setting. No grand spectacle to jazz up the basic premise of three pals sitting around, mocking the dismal prose. Their faces weren't even projected on the giant screen, which was used only for a brief Powerpoint presentation and a brief opening film.
There was a huge amount of warmth in the room. This wasn't just three mates on stage, the audience clearly felt it was THEIR mates, thanks to the intimacy of the podcast format. Some brought pots and pans, to illustrate the mundane day job of the titular hero of the Belinda Blinked saga; others had pomegranates over their breasts, in acknowledgment of one of the clumsier metaphors in the series, a title for which there's quite some competition. And the less said about the 'bottom flannels' the better.
Jamie's dad, the man who puts the 'rot' in 'erotica', writes under the pen name Rocky Flintstone, and this live show is based on a bonus story that he excluded from his books, an escapade that fell short of even his less-than-exacting standards.
It's based around Belinda and her RSMs (regional sales managers), taking off to Cornwall for a team-building exercise, which quickly turns into an orgy. HR be damned! But while it's only one chapter, reading it takes two hours, plus interval, as every sentence takes quite some unpacking.
As well as his knack for inelegant, inappropriate language, Flintstone has an eye for unnecessary trivial detail – there's a lot about the flooring – and is what might be described as 'gynaecologically naive', prompting Levine to unveil that PowerPoint anatomy lesson.
In another set piece to stop the format becoming too repetitive, two members of the audience are called on to reenact a physically convoluted seduction scene exactly as Flintstone describes it, which is more Twister than Karma Sutra when it comes to which bit goes where.
And while there's a danger of diminishing returns in mocking the clunky prose, it's countered by the inevitability that it gets more raunchy – or at least tries to, were the writing not singularly unerotic – ramping up the comic stakes.
The trio have been touring this story for quite some time, but it seems like they will never tire of mocking it. The banter between them seems fresh and genuine, as if they are shocked at what new horrors they unearth each night.
And despite the thousands flocking to this grand setting, and the millions of downloads that have made it the No.1 podcast, Dad Wrote A Porno maintain their cult sensibilities. It feels like a shared private joke – witness the cheer each time supporting character Ken Dewsbury gets a mention – and scale does not diminish that.
It's enough to make Belinda blink.
Review date: 22 Jun 2018
Reviewed by: Steve Bennett
Reviewed at: Royal Albert Hall
Recent Reviews
What do you think?