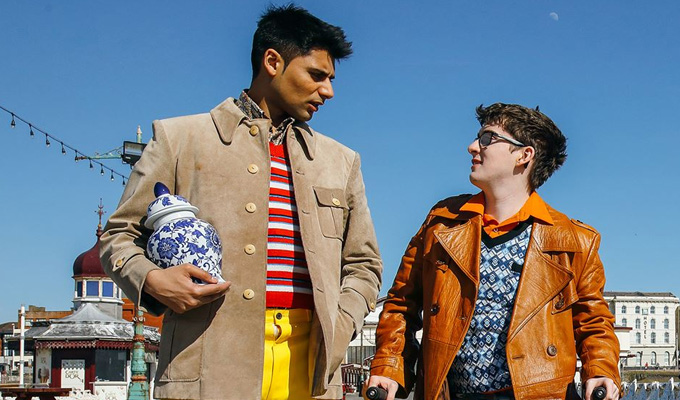 Eaten By Lions
A great cast including Johnny Vegas and Asim Chaudhry bring a good dose of fun to the new British comedy Eaten By Lions, which premieres at the Edinburgh International Film Festival today. But director Jason Wingard can be clunky in his handling emotional moments – which lean towards over-sentimentalised cliché – and occasionally the comic ones, too.
The title is no clever metaphor: it's what happened to the parents of half-brothers Omar (Antonio Aakeel) and Pete (Jack Carroll) way before this film starts, leaving them to be brought up by their grandmother. When she pops her clogs, too, she leaves Omar the information he needs to track down his father.
When the siblings are taken in by their monstrous aunt Ellen (Vicky Pepperdine) and uber-meek Ken (Kevin Eldon, always a treat), it's obvious that Omar is less than welcome because he's half-Asian. So off the inseparable pair head to Blackpool to track down the errant father.
Many of the scenes in the resort have the air of comedy sketches, such as the jobsworth security guard (Peter Slater) stopping them from spreading granny's ashes on the pier. And Tom Binns essentially does a bit of his stage act as charlatan psychic Ian D Montfort when he appears as the fortune teller. There are plenty of funny gags in his cameo, but there's no pretence of credibility. Other comedy circuit cameos include Phil Ellis as a jaded ice-cream man and Barbara Nic creator Janice Connolly as a middle-aged reveller.
After all their belongings are washed out to sea in another bit of contrived story, Omar and Pete wind up in a grotty guest house run by the even grottier Ray (Vegas) in a grottier-still wig. There they are given comically unfashionable clothes to wear before they can continue the quest for Omar's dad, which take them to a well-to-do Asian family home on the edge of town, and the introduction of an entertaining new ensemble of eccentrics with a comically tense encounter.
Such clearly gaggy moments in the script (by Wingard and Davis Isaac) sit awkwardly with over-sentimentalised moments of emotion, complete with earnest soundtrack intruding to underline in heavy Sharpie what you are supposed to be feeling, usually when the 'brothers stick together, no matter what' theme is raised yet again.
Both comic and dramatic beats are frequently foreshadowed as the plot sticks largely to formula. No guessing what happens five minutes after the introduction of a precious Rolls-Royce no one is allowed to drive. And characters tend to flip their motivations on a whim to kick the narrative forward.
But for all its bumps, the film is frequently amusing, and the cast bring out the best of the writing. It will be a specially fine calling card for comedian Carroll – previously best known for his stand-up performance on Britain's Got Talent and recurring role in Trollied. He's likeable, impish and funny, with his cerebral palsy incorporated into his character but in no way defining it.
People Just Do Nothing's Chaudhry is another scene-stealer, showing there's little he can't make funny – though the mawkish, verging-on-trite speech he has to make as his character decides to face up to responsibility, in the inevitable moment of redemption, certainly tests that premise.
But on top of the formulaic plot lie enough amusing moments for 90 minutes of undemanding entertainment.
Eaten By Lions was screened at the Edinburgh International Film Festival tonight. It will be shown again at 13:15 on Saturday at Cineworld.
Review date: 21 Jun 2018
Reviewed by: Steve Bennett
Recent Reviews
What do you think?