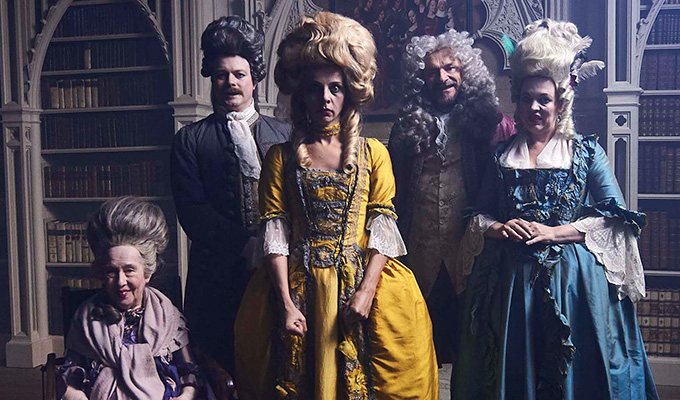 Flowers series 2
It's a smart move for Channel 4 to strip the second series of Flowers across the week, as it did with the first series. For this most unconventional of comedies is not so much a sitcom, as an arthouse movie in six half-hour episodes, designed to draw the viewer into creator Will Sharpe's peculiar and distinctive world.
Even its definition as a comedy is curious, given it's underlying sadness, and the exploration of a family racked by mental health issues.
We pick up the story a couple of years after the last series. Maurice (Julian Barratt) has come to uneasy terms with his depression, managing it through medication but still prone to melancholy and a lack of motivation, especially when it comes to his career as a children's author. Relations with his wife Deborah (Olivia Colman) have collapsed, despite their attempts to rekindle a flame on an occasionally absurd caravan holiday. The snapping point comes when Deborah presses Maurice over whether he fantasises about other women, prompting him to answer a little bit too honestly.
More troubled now is Amy (Sophia di Martino), an avant-garde musician whose bandmates and new partner – the vicar and recovering heroin addict Hylda (Harriet Walter making a marvellous addition to the cast) – struggle to cope with her bipolar episodes. Probing into her grandfather's story triggers some pseudo-mystic thoughts in her over-fertile imagination, quickly coming to believe the Flowers are cursed. Her fevered imaginings are played out in glorious Technicolor, massive powdered wigs, and melodramatic gothic grandstanding.
Meanwhile, her twin Donald (Daniel Rigby) – a would-be plumber – is an angry, deluded 'incel', unable to find love or sex, not least because of his mix of misogyny, anger and unearned sense of entitlement.
The central cast is completed by Sharpe's own character Shun, the permanently pissed Japanese illustrator who lives in a cabin next to the Flowers' isolated house. His silly drunken antics are transparent, if sometimes intrusively irritating, moments of comic relief against the turmoil and wretchedness of the family.
For although most characters display traits that are broadly comic, the humour underplayed compared to the high drama and proud sense of oddness, and it's very rare that Flowers produces a laugh-out-loud moment.
Other than Shun, Donald gets the lion's share of the few comic scenes, thanks to his delusions of grandeur. Whereas Colman's efforts to present a cheery image as if everything is hunky-dory are a veneer at odds with reality that's also ripe for humour, though Sharpe keeps this angle wry and dry. Plus Amy's mania produces a few moments of levity, especially as her bandmates try to make sense of her unhinged instructions, even if the main attribute Di Martino's tour-de-force performance brings to this series is intensity.
Combined with Sharpe's singular vision as a writer-director, that makes for an unnerving, peculiar, absorbing journey that's as emotionally uneven as real life, if only sporadically funny. But it is certainly a one-of-a-kind programme that will stay with you.
Flowers starts on Channel 4 with a double bill at 10pm tonight.
Review date: 11 Jun 2018
Reviewed by:
What do you think?