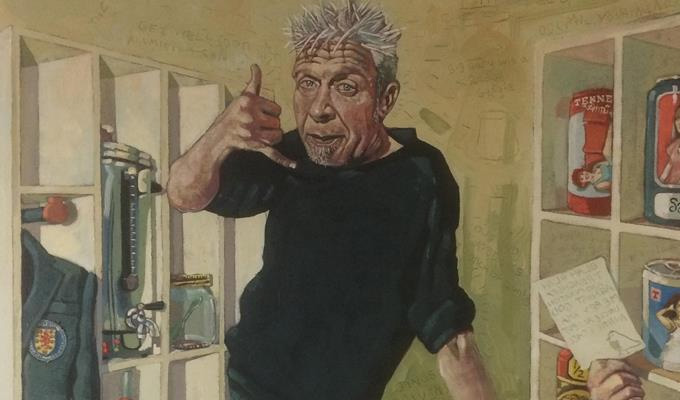 Vladimir McTavish: 25 Years of Stand-Up
Note: This review is from 2018
Vladimir McTavish invites us to look how far he's come in his quarter-century on the comedy circuit: he's flown down from his Edinburgh home to play to eight people in the upstairs room of a Brighton pub.
Yet he's far from dispirited. He clearly enjoys his job, and speaks with real affection as he mentions the experiences he's had on the road, seeing the world, playing good gigs and bad, but always more interesting than any alternative career. He was once a bin man, so he knows.
Even with this small audience, he busts out some robust club material. His material, based on the way he looks with his Billy Idol hairstyle or playing up the Scottish stereotypes of drunkenness, poor diet, and fleeting life expectancy, is far from original in its outlook. But McTavish delivers with well-practised impact and a buoyant cheer.
After this preamble come stories about his past, starting as part of a six-strong topical comedy troupe, of which he's the last man standing, recollections of some of the weirder alternative acts he's encountered, and a couple of tales of nightmare gigs.
However, the odd format of this show, still a work in progress, is essentially flawed. To mark his 25 years in the business, he wants to share some of the topical jokes from the past. The audience pick cards to select a random year – a device that will be replaced by a wheel of fortune come Edinburgh Fringe – and McTavish dusts down some of the material from that year.
But topical material has a shelf-life, and try as he might to put his material into context, quips about Monica Seles, Frank Bruno or Alex Salmond do not date especially well. And is there any more to say about the baggage handler who attacked a terrorist who was literally on fire at Glasgow Airport? No. Sometimes the original news stories require explanation for younger members of the audience, who'll never properly connect, while slowing down the show for the old ones who remember them.
The tone is amiable, the hour lightly amusing, but it does not feel like the apex of a 25-year career.
Review date: 1 Jun 2018
Reviewed by: Steve Bennett
Reviewed at: Brighton The Temple
Recent Reviews
What do you think?