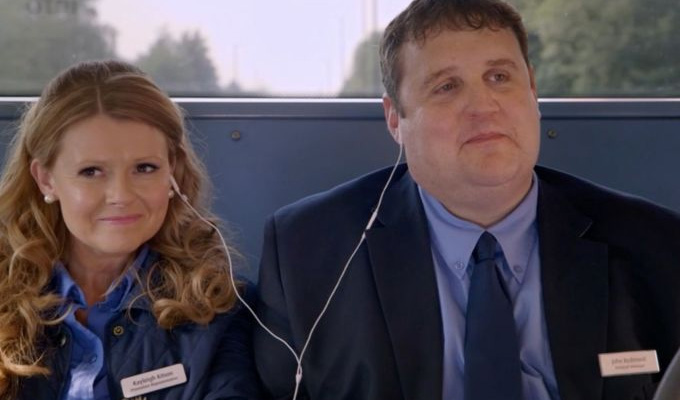 Peter Kay's Car Share: The Finale
Note: This review is from 2018
It's titled The Finale, but is it? Peter Kay's Car Share ended with the start of another chapter as John and Kayleigh rode off into the sunset, hand-in-hand… on the back seat of a bus. It was another moment of tender low-key romance in a series defined by them.
The penultimate episode – which fans had previously been led to believe was the last – had wound up with Sian Gibson's Kayleigh declaring her love for her commuting companion, only for him not to reciprocate. But Kay was always too soppy-hearted to consider that a proper conclusion. The viewers' petition for things to turn out different was unnecessary, for this finale was already in the bag.
It began with Kay's character John delivering a parcel to Kayleigh's house – with Elbow frontman Guy Garvey reprising his cameo as mechanic Steve. Our mild-mannered hero then drove the streets of greater Manchester solo, full of regret and staring at unanswered texts on his phone as Owner Of A Lonely Heart played on the radio.
The package, it turns out, contained a Walkman and a song John had written, imploring: 'Come back now, my car share buddy'. There was even a music video dream sequence, given that Kay never misses a chance to entertain his pop-star fantasies. The promo also featured a shot of him gleefully skidding along the floor on his knees, a former part of his stand-up routine, which Kay has never been shy about recycling.
So the will-they, won't-they relationship had moved on a step, despite the super-cautious John trying to take things slowly. To add to the pressure, there are wedding bells in the air, as the tentative new couple had received tacky invitations to the nuptuals of two colleagues. That surely feels like a future Christmas special (the date of the big day being a convenient December 28 and some potential plot points about the groom once having a thing for Kayeligh dropped like confetti). Any good rom-com would leap on a wedding scene… and Car Share is undeniably a good rom-com.
The show never made its name on big laughs, more on heartwarming good vibes, and the finale soon settled into its usual blend of gentle, affectionate banter in a commute where the biggest drama is John losing a vital 2p coin under his red Fiat 500L. Although it turns out there was a bigger crunch moment to come a minute later…
The gags are always in the background: on signs or in the chatter of the Forever FM DJs on the car radio. The punchlines seemed a bit dirtier this time with signs alerting motorists they were entering a 'no dogging zone', a bus ad for Beaver Liquour, and a 'going down' gag linking The Titanic and Monica Lewinsky.
And after landing in trouble when a joke in the last, improvised, episode was considered transphobic, this time Kay could be courting criticism for a joke about disabled people. At a bus stop, Kayleigh passes a poster for a new Channel 4 reality show with the sort of mash-up title Kay enjoys: My Big Fat Undateable Bake Off. But its slogan? Fancy A Raspberry Ripple.
Such a gag seems a misstep among the gentle humour of the sympathetic characters that Car Share has been built around: two ordinary people with small problems but a lot of heart that strike such a chord.
Review date: 29 May 2018
Reviewed by:
What do you think?