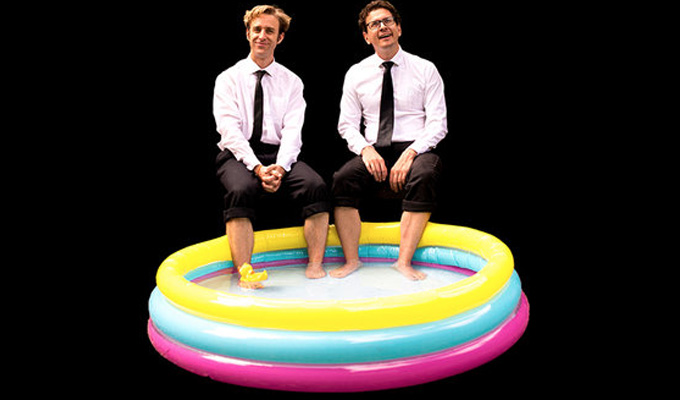 Jon And Nath Like To Party
Jon and Nath revel in being messy – both figuratively and literally. Their show revels in a brash, rough-and-ready slapstick, which leaves a liberal amount of gunk smeared over Nath Lang's face by the end.
Everything rests on their willingness to go all-in on the zaniness. In truth, their writing can be wobbly, but it's mostly executed with such stupid commitment that the anarchy is pulled off. Admittedly, cracks start to show long before the end of the hour as they reach the limits to how far they can get on zest alone, but the knockabout performance is fun while it lasts.
Typical is their Living With… series of sketches, which contains the hoariest impressions you've heard - Woody Allen, Christopher Walker, Robert De Niro – but Lang does them with such stupid commitment, he pulls it off. And his De Niro face is an excellently grotesque caricature.
We start in the titular party, raising the energy from the get-go. But it's not long before Jon and Nath appear as cops to break it up – and 'confiscate' all the drugs. In this comedy partnership, Jon Levene nominally takes the straightman role to the dafter Lang, but as the senior officer in the opener he's quite happy to knock back the contraband.
Some of their skits have their origin in a real-life observation, such as the smug foodies going to a chichi pizzeria that serves only deconstructed food, while others are self-referential, likening their writer's block to The Shining.
But mainly they revel in being outrageous, even if such moments can seem a little calculated, such as the proudly sacrilegious crucifixion sketch, cynically designed to provoke offence among those who hold the scene holy. As if they would be heading to a late-night fringe comedy show…
Instead, tonight's audience contained some relatively rowdy attention-seekers, drunkenly lobbing in their own smartarse jokes. But Jon and Nath ignored the self-centred irritants, for it would take more than that to stop their juggernaut performance.
Review date: 23 May 2018
Reviewed by: Steve Bennett
Reviewed at: Brighton The Warren
Recent Reviews
What do you think?