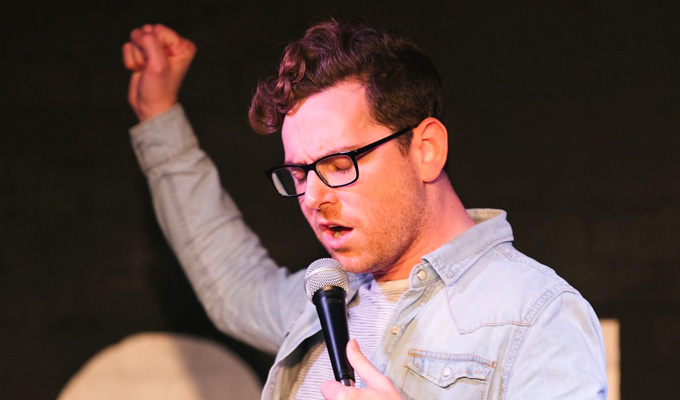 Jim Campbell: Trampoline at the Brighton Fringe
'So I'm single….'
How many stand-up routines start that way? But Jim Campbell reckons he hasn't just been dumped, but mega-dumped, since he's had an engagement go belly-up. He even has the now unwanted ring as evidence. Maybe showing it to his audience might make it tax-deductible as a prop?
But this isn't just another breakup show, this is a very classy breakup show – packed full of gags and unafraid to touch on the toll the split has taken on him. 'Full disclosure,' he says. 'I have not taken it well.' As if dedicating an hour-long show to his plight isn't evidence enough.
Campbell is understandably cynical on the subject of love and romance, and some of the jokes are decidedly bitter. And yes, he does hit the expected touchstones about his ex being 'crazy'. Or at least very incompatible with him. But he's also incisively self-analytical, not too blinkered to put his own behaviour and emotions beyond reproach.
Oh, and there's an unexpected twist of drama that bizarrely crashes the most devastating moment of the break-up, just to add an extra twist of surprise.
With his fourth solo show, 35-year-old Campbell proves himself as a strong writer, not just in crafting deft gags to illustrate his story, but also in coining perfect little phrases to move the narrative along, such as describing his attitude to relationship as the search for someone who will 'share the burden of me'. Plenty of his punchlines are laugh-out-loud thanks to the clarity and originality of of his thinking.
He speaks quickly, which packs the gags in even tighter as well as giving him a confidence on stage that conquers the many insecurities he speaks of. The script, even in this work-in-progress version, is largely tight, with every incident he describes being the set-up for a joke. He never wallows in the pathos, but lets the misery he undoubtedly felt make its presence felt behind those pointed punchlines.
Review date: 21 May 2018
Reviewed by: Steve Bennett
Recent Reviews
What do you think?