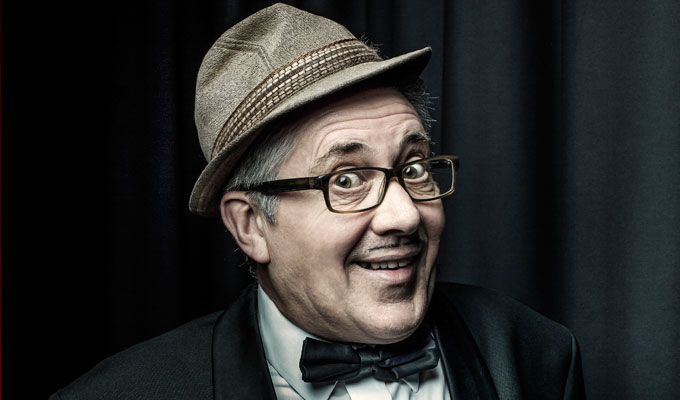 Count Arthur Strong Is Alive And Unplugged
Despite being a BBC sitcom star, austerity has struck Count Arthur Strong Enterprises. For while the dyspeptic theatrical footnote is usually accompanied by a couple of long-suffering sidekicks, his latest tour sees him performing solo for the first time in years.
There's definitely a layer missing with no nice-but-dim foil to bear the brunt of his muddle-minded incompetence, no sop to blame when his hubris breeds catastrophe. Perhaps it's telling that the strongest section of Alive And Unplugged is when he finds a substitute assistant, in the form of ventriloquist's doll Little Charlie. It's an hilarious descent into ridiculous farce as an increasingly angry Count Arthur cedes control to his supposedly inanimate puppet, outwitted by wood.
This is prime Count: indignant, confused and losing grip on reality. We see it, too, in his attempt at auditioning for Jackanory, a show whose title is a gargantuan challenge for a man bedevilled by malapropisms and an increasingly shaky memory. His attempts at reading a self-penned children's story, full of the sort of amusingly gauche prose you might expect, are gloriously derailed by his wandering mind. In a typically geriatric digression, he imagines a very messy predicament for John Bishop – as random as that reference is – and keeps on building up in an epically absurd rant.
Yet there are also times, most notably in a sub-par first half, with its Dragon Den suggestions and tales of being locked in the lavatory, when it seems that Steve Delaney's creation is merely treading water. And the 1950s sci-fi spoof The Curse Of The Mummy Robots From Outer Space becomes an albatross around the live show's neck, forcing frequent returns to a black-and-white film – made with fellow comic Joanna Neary and Count Arthur's former panto co-star AJ Jenks – that's a well-observed parody but involves ever-diminishing returns on its core gag.
Yet even at reduced strength, the Count can utter a dumb non-sequitur or mutilated phrase that will elicit a sudden burst of hilarity. From oxymoronically opening with a show-stopper (in tribute to Bruce Forsyth) to telling us that he had a breakthrough in something of a 'urethra moment', there are plenty of classic lines here, even if it's not a classic show.
And Delaney cannot put in a bad performance of the character he's lived with for decades, and who fits him as tightly as a jauntily-angled trilby.
Review date: 17 May 2018
Reviewed by: Steve Bennett
Reviewed at: St Albans Alban Arena
Recent Reviews
What do you think?