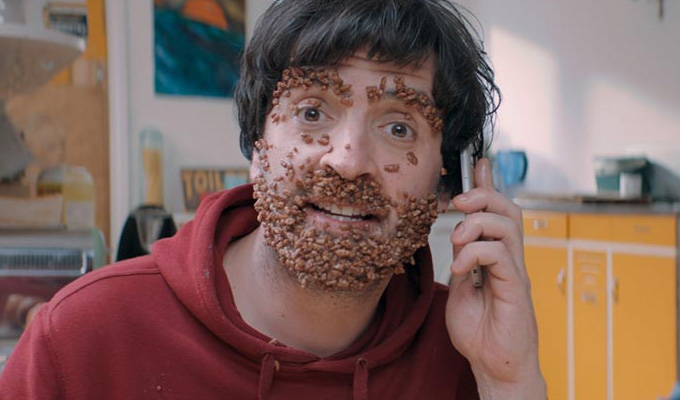 BBC Comedy Shorts 2018
Note: This review is from 2018
If the BBC's Comedy Shorts seasons is intended as a testbed for possible new series, the comedians in this year's class seem to have missed the email. For although one or two have repeat potential, none feel like pilots in the conventional sense. Rather they are self-contained short films, and all the more satisfying for that.
Take Tim Key's Wonderdate, for example: an idea based on the same premise as his recent live show Megadate, but taking off in a slightly different direction.
It shows a lovelorn man, left on the shelf a decade after all his friends got married, in the desperate aftermath of a date that set his lonely heart aflutter. As Key's character of 'Man' retraces his steps in search of his mislaid hat, a yawning gap appears between his romantic memories of the night and the more prosaic reality.
Flashbacks are romanticised in arthouse black-and-white shots over a bed of Russian jazz in contrast with the contemporary scenes, which have the slight disconnect of a Coen Brothers movie.
As he bombards his potential paramour (Julie Dray) with texts – all of which go ominously unanswered – the wisdom getting competitive at bowling or choosing a chicken-in-a-bucket shop for dinner are questioned, not least by the people he meets on the way.
Bill Paterson puts in an especially fine turn as a peculiar but sage old man Key encounters fishing on the Thames, muddying the distinction between school-of-life wisdom and the peculiar thoughts of a man with two much time, perfectly befitting a short film that likes to blur the lines. The result is thoroughly charming and absorbing
Nick Helm's The Killing Machine likewise feels as if it should be screened at a short film festival.
In it he plays, Sam, signing up for a boxing gym despite being so out of shape that the slightest exercise has him retching into a bucket. He exerts himself in the new regime, much to the surprise of his trainer Donny (Lloyd Everitt), but despite all the effort, depicted in obligatory montage, he has very little progress to show.
The depiction of this world is so realistic, and Helm's performance so naturalistic that you might initially overlook the fact that it's a comedy at all. However an exchange that reveals the trainer has never seen Rocky and has an altogether more unexpected taste in films, emphasises a dry wit that underpins the piece.
Besides, the theme of a depressed man punishing himself to take away some other pain is not so far from Helm's usual aggressive stand-up – it's just that the torture here is more physical than emotional.
Despite what the title might suggest, The Killing Machine has a huge amount of heart, not least in a surprisingly warm conclusion that finds victory in the most unlikely of situations.
Sticking to the combative theme, we come to Sara Pascoe vs Monogamy, in which he comic rains down an barrage of intellectual blows against a social concept that we've all come to accept: that we should be in a faithful, monogamous relationship til death do us part. Certainly her arguments about the patriarchal manner of a wedding – a man 'giving away' a woman, who is then obliged to change her name - are hard to challenge.
Anyone who's seen her stand-up, read her book Animal, or heard her Radio 4 series The Modern Monkey might be familiar with the arguments and approaches she takes here, wittily drawing from biology and anthropology to examine the often competing evolutionary and social forces that have got us to this stage.
Indeed, the show feels like one of her smart stand-up routines, albeit one delivered not to an audience but to her unsuspecting date (Navin Chowdhry), on whom she downloads her contentious opinion and personal experiences in one intense but informative package.
Pascoe tells of her parents splitting when she was young – both of whom make appearances – and of her heartbreak when her first relationship collapsed. But with hindsight she realises she had not found a soul mate, but another sad person for whom mutual companionship would conveniently fill a hole in both their lives.
Her argument is illustrated with lots of quirky little sketches, such as that first boyfriend being played by a leading Robbie Williams lookalike, who winds up 'playing' a woman dressed as a six foot foam saxophone.
If you think that's surreal, wait until you see Spencer Jones's The Mind Of Herbert Clunkerdunk – the best of a very strong batch of shorts and unlike almost anything else you'll see on TV, including the already-commissioned BBC sitcom Mr Winner in which Jones plays a Frank Spencer-style slapstick fool.
Here, though, Mr Clunkerdunk is the TV incarnation of his absurd stage persona The Herbert, who's seen preparing to go for an audition, a premise Jones explored in his last live show, The story is incidental, however, a mere thread on which to hang a series of brilliantly daft physical scenes, often set to a barmy soundtrack of homemade loops and raps, which add to the distinctive feel.
A mop is repurposed as a soul singer, Jones winds up with Coco Pops over his face like a bizarre beard, and a front door is brought to life as a massive face. And if you don't laugh at his exchange with Johnny Wallop (Dominic Coleman), whose expressions are depicted with fake eyeballs, you may not be human.
'I can vote!' chirrups Jones to camera, amazed that he's getting away with such absurdity. Each scene could be a standalone vital hit. In fact, the only segment that feels out of place is a piece-to-camera where he tells of a disastrous former audition, which is a rather conventional bit of monologue among the madness.
The strongly authored feel of the short calls to mind cult hits such as The Boosh or Vic And Bob, with the humour at the more mainstream edge of Reeves and Mortimer's repertoire, and with more gags packed into this 11 minutes than some comedies manage in a whole series.
Review date: 14 May 2018
Reviewed by:
Recent Reviews
What do you think?