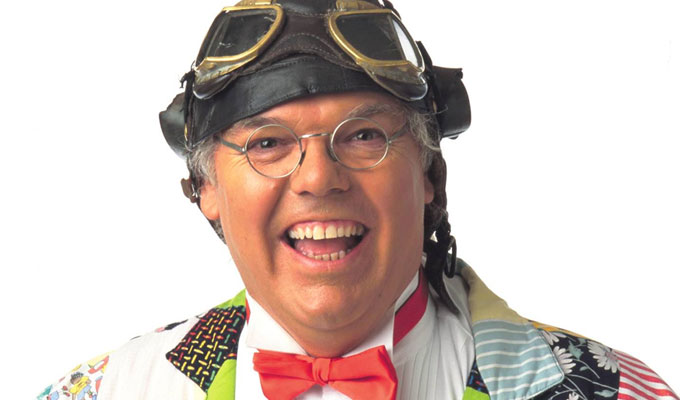 Roy Chubby Brown
Every Roy Chubby Brown gig – even the one that was unceremoniously pulled in Hamilton this week – comes with the disclaimer: 'If you're easily offended, please stay away', as if the world was so clearly split between the easily-offended and the thick-skinned. Some people love jokes about Pakistanis but wince at a woman talking about her period; other people don't mind the c-bomb but draw the line at race hate, the snowflakes.
Approaching my first ever live Chubby gig last night, I fully expected to be as repulsed as I had been by seeing the truly unpleasant and peculiarly charmless Bernard Manning in all his creepy flesh.
And I wasn't. At least not here.
Yes, there were a few racist jokes. A gag about an 'illegal asylum-seeker' from Nigeria having massive lips, a line about Africa being empty because 'they' have all 'come over here', and a few Indian head-wobbles, including his mimicking of the surgeon who saved his life… there's gratitude for you.
They are not pleasant jokes. Nor are they funny. But it's also hard to see them entirely as offensive. It's more that they seem terribly dated, based on concepts that were never really true in the first place, like quips about fat mothers-in-law or stupid Irishmen. He even describes someone as 'coloured' because 'you can't say negro any more', which just shows how out of touch he is.
Could his gags give validation to racists? Be used hatefully against minorities? Yes they could, and that's always going to problematical.
But a lot depends on the mood of the room. The archetypal Chubby Brown fan is a white working-class man feeling the brunt of an industrial decline and an ever-widening wealth inequality changing the Britain they know. Some of his DVDs suggest his gags release a latent resentment, a lashing out at political correctness or even at immigrants themselves, just some defiance against an establishment that has ignored them.
But not here. Here in a half-full auditorium in a leafy, middle-class Hertfordshire town, far from his heartland, his worst material doesn't seem dangerous, it just seems like a collection of bad jokes.
Chubby also seems to have trouble rousing the (all-white) crowd, despite his best efforts. Several times he tags a joke with a line of resignation that it should have gone better, and he struggles to get us to sing along with his songs, even the pub classic Living Next Door To Alice. Another of his ditties invites the room to chant along with: 'Viagra gets your cock hard, la-la-la-la', demonstrating all the wit and subtlety of a rampant stag group drunkenly ruining everyone else's night.
Yet despite what seems like a sluggish reception, Chubby gets a standing ovation in some quarters at the end, with one man actively imploring more people to join him on his feet. Perhaps it's a matter of principle to be seen as a proud Roy Chubby Brown fan, and defy the naysayers. For after all, he signs off with a note of defiance against political correctness ruining comedy, and a disingenuous disclaimer that it's 'just jokes'.
Racist is just one of the '-ists' you could throw at Brown, though, and the one that's hardest to ignore is 'misogynist'. He dedicates huge swathes of his show to 'spilt arses' as he delicately calls women.
But in almost every case it's just about their vaginas, always fat, cavernous and unpleasant. In Chubby's world that's all women are defined by, their ikky genitals, nothing more. That stance is, of course, de facto offensive. But as with the race-based material, the main issue is that it's boringly reductive, every joke a variation on a theme, reliant on you sharing his sniggering attitude.
Again the clear potential for offence is mitigated by the fact Chubby himself is so low-status. Even when he's verbally bullying them, it's because he sees women as having the real power. These snipes are all he can do to mitigate his comparative impotence. The point of view is of a sad-sack – and of course 'fat bastard' – who can't get laid, lashing out.
For all his unpleasant jokes, Chubby does have a certain mischievous charm on stage, emphasised by that familiar outfit of flying helmet and patchwork suit that establishes him as a modern-day clown in the tradition o of the traditionally colourfully attired Max Miller.
And even as a card-carrying metropolitan liberal, I laughed a few times, including at one horrifically offensive joke about Katie Price's disabled son Harvey, notable for its savagery and entirely indefensible.
In fact there's got to be at least one joke for everyone, given that Chubby's gag rate is so high, with little time for elaborate set-ups. Even when he shares a couple of true anecdotes from his 50-year career – a rare slither of truth in the onslaught of bad-taste punchlines – the stories are stripped down to their bones.
He lost his place in a couple of songs, abandoning one altogether, but otherwise his 72-year-old mind is sprightly. Even if one joke showed its age by relying on the knowledge of some obscure and ancient Cliff Richard lyrics that left the room baffled.
But despite pumping out the punchlines, the gig felt a little flat. Perhaps we should have tweaked his own catchphrase and chanted 'You flat bastard' at him…
Review date: 27 Apr 2018
Reviewed by: Steve Bennett
Reviewed at: Radlett Centre
Recent Reviews
What do you think?