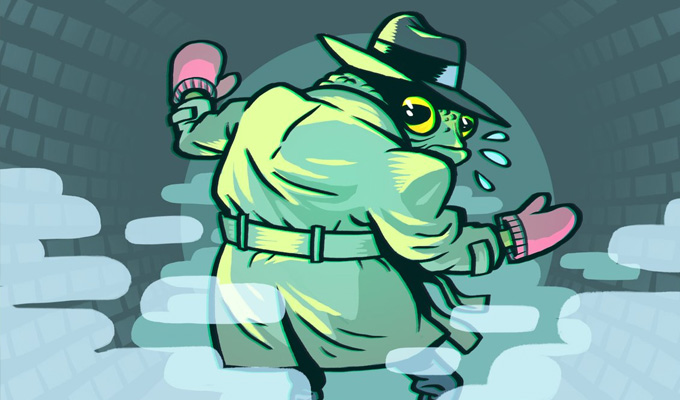 The Awkward Silence: Bufo Bufo
Note: This review is from 2018
There's absolutely nothing awkward about The Awkward Silence. Their Bufo Bufo show is tightly performed with a savvy theatricality that evocatively realises the shadowy underbelly of 1927 Chicago through stylish film noir sensibilities.
We open in a news conference, where a brusque, hard-bitten detective reassures the gathered press that there is nothing suspicious about the corpse discovered in the docks, his legs chopped off and his finger shoved up the nose of his decapitated head.
But unflappable freelance journalist Brad Donovan smells a rat, even in this seedy world, and starts delving deeper, ignoring the warnings to stay off the case. And after an accidental encounter with fusty academic Professor Paxton, he finds himself plunged into a centuries-old global conspiracy, the 'hack and the dweeb' against a sinister force.
Though the big picture is preposterous, Ralph Jones and Vyvyan Almond have created a compelling story with plenty of twists, turns and possible red herrings to keep their audience rapt. And in their trenchcoats and trilbys, they create a city's worth of characters from wiseguy gangsters to silver-tongued Hollywood charlatans; insane witnesses to sultry femme fatales.
They create big pictures through sharp mime and a strong sense of character, quickly conjured up through exaggerated but credible quirks. The likes of an elaborate chase sequence through a construction site, a husky-driven sled ride and a showdown in a vast underground cavern are all called to mind though skilled acting and an occasional technical flourish. Both performers are skilled physical comedians, too - especially Jones, who does a splendid turn at being punchdrunk or just plain drunk, thanks to a jazz bar montage.
The script is literal and eloquent, full of quickfire double-talk true to the films on which this melodramatic thriller is based – and with a special penchant for askew metaphor that throws up delightful turns of phrase.
Story-wise, there's a slight pacing issue, with a lull when the tension should be ramping up as head into the climax. It's the only time that being so firmly rooted in a genre becomes a slight hindrance, as there's not enough room for a much-needed variation in tone. And the showdown itself is overlong.
But for a strong blend of comedy and action with a well-realised cast of fascinating oddballs, the Awkward Silence are speaking volumes.
• The Awkward Silence: Bufo Bufo is back at the New Diorama Theatre, Euston, tonight
Review date: 23 Apr 2018
Reviewed by: Steve Bennett
Reviewed at: New Diorama Theatre
Recent Reviews
What do you think?