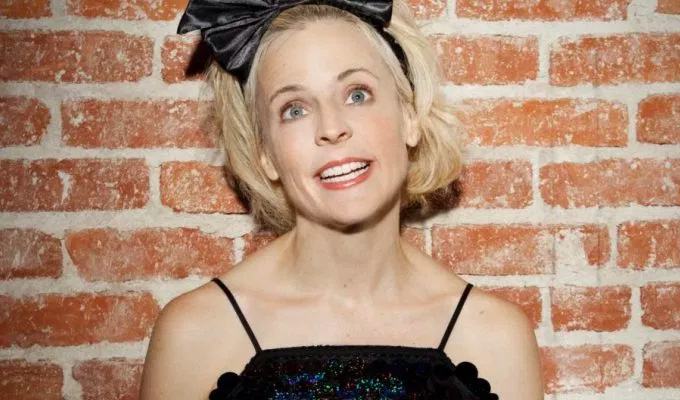 Maria Bamford
The essence of the comedian's role is to let the audience into their world. And Maria Bamford does that like no one else: both in the depths of personal experiences her very naked form of stand-up probes, and in the way her fragmented, seemingly stream-of-conscious delivery so vividly demonstrates how her uniquely odd mind works, with all its leaps and stutters and obsessions.
The audience can be left as disoriented by this peripatetic onslaught of random scenes as she is by real life. And, as she has found and distilled, the only sane reaction to the insanity is to laugh at it.
At what is – incredibly – her first London visit, her new material is less focussed on her mental ill-health than before, but it's no less exposing. Her longest and most stable relationship to her husband of three years seems to have kept her from the darkest recesses, although she's still in therapy, on medication and suffering from a slight tremor, which she wears as a badge of honour.
But while that material now takes a back seat – save for a reprisal of a couple of classic routines from the bleakness of the psych ward –– the new intimacy in her life has opened up new avenues of experience to Bamford's intense, insecure analysis.
An awkwardness around sexual role-play ends with them exploring such saucy scenarios as 'the living wage' – a clear comic sketch idea, brilliantly and quirkily funny, which slightly suffers from diminishing returns. But later she reveals real tensions, when she messes up a much-discussed bit of home decorating – husband Scott's sympathetic words of comfort being fiercely countered, exposing so much about her prickly fragility.
Over the hour, her life flashes before our eyes. In a series of fractured scenes, the long, rocky road she's travelled to get here is revealed piecemeal, from relationships good and bad that got screwed up, the insecure comedian always blaming herself, to the miserable lonely gigs in front of unsmiling crowds unconvinced that her comedy-as-therapy was fulfilling the fundamental requisites of the job of stand-up, to be funny. How wrong they were.
The despondent plight of the artist is a constant refrain, battling poverty and hostility as she endures an abusive relationship with the audience she cannot leave. She can hide behind the curtain – and does, boasting that she's one of the few comics working today to engage in 'full body peek-a-boo' – but she will always step into the spotlight again.
The third key relationship is with her parents, more confused and concerned than disappointed at how her life's turned out. On seeing her highly acclaimed Netflix series Lady Dynamite, her father's reaction was: 'You do what you've got to do to earn money'; while a passive-aggressive conversation with mum inspires the song, and I use the word loosely, which closes the show.
An hour in Bamford's company is a strange, unique and dizzying experience, full of abrupt diversions and headlong plunges into rabbit holes, requiring the audience to submit to stand-up that dispenses with narrative. Instead, she paints a very personal picture through snapshot sketches, delivered with fizzy, nervy energy and, sometimes, exaggerated characterisation. It's a wild ride, but the audacity and reality will make you laugh.
Kudos, too, to opening act Felicity Ward – another comic who has been refreshingly frank about mental health issues in her stand-up. A powerhouse performance, great jokes with determined purpose and a clucking excellent chicken impression meant she got as many laughs as Bamford, a feat almost unheard of for any warm-up.
Review date: 23 Mar 2018
Reviewed by:
Recent Reviews
What do you think?