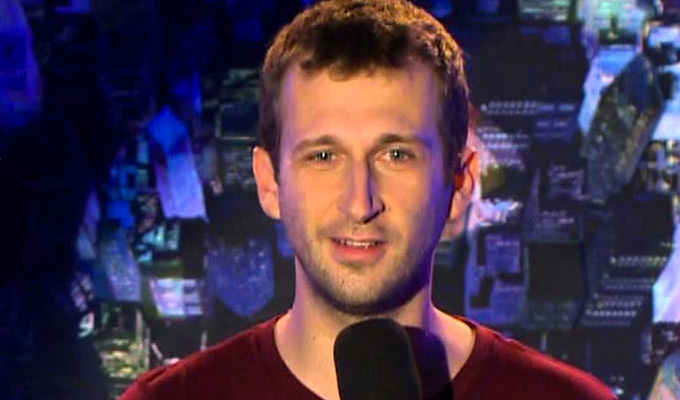 East European Comedy Festival: English Speaking Comedy Borsch
Note: This review is from 2018
As temperatures turn decidedly Baltic, what better time for a festival of East European comedy? For expats in multicultural London, it's a chance to sample a welcome taste of home for the 15 different nationalities represented, or a one-stop shop for any fans interested in the development of comedy across the globe.
In a savvy move, the festival offered a mix of shows in native tongues as well as English language showcase like this one, at the Top Secret Comedy Club, which brought the five-day event to a close last night.
MC Chelsea Hart was as much geographer as compere, determining exactly where everyone in the room came from. She's American but very much a global citizen – big in Bosnia, apparently, thanks to her street-performing past – and able to drop references about Polish towns or Egyptian pop music to connect with the audience, one Igor or Ivana at a time. (Those, incidentally, were the real names of people she spoke to, not (just) stereotypical East European names).
Russia's Konstantin Kisin got the show off to a cracking start, thanks to some astute comments about the British attitude to foreign languages that it probably takes an outsider, in a second tongue, to point out. But he's lived in the UK for 20 years, so knows our mores, while his experiences also provide fodder for wry material on the poor-quality racism that's been levelled at him, more dumb than offensive.
There were also plenty of sly asides about how we view Russia, which hit home the hardest. That reveals an interesting quirk about this gig: that everybody is instantly defined by where they come from. At home, they're just a comic, here they get a geographical adjective attached to that which suddenly pigeonholes them, but can also give them an edge.
Poland's Mike Topolski, for instance, had plenty of jokes about efficient workmanship – though in fact was less disciplined than Kisin. He started off with a big, slightly self-aggrandising, build-up about how he'd been interviewed by The Guardian, teeing up the familiar routine of reading out the wilder parts of the comments section. But he never got round to that part. Elsewhere, he laboured a point about middle-class men dominating Radio 4, but forgot to make it funny, and thought he deserved more for punning in a second language.
Slovenia's Tin Vodopivec jumped around stylistically, from typical – but well-observed – club material about going out on the pull, to sardonic comments about his fellow countrywoman Melania Trump, to sillier jokes and physicality. He's something of a star at home, he claims - but given Slovenia's entire population is 2million, a quarter the size of London, you can understand why he's stretching his wings in a medium-sized club in the UK, where the scene is better established. With such an eclectic set you don't get bored, but you might want for a more consistent tone of voice.
Radu Isac, pictured, the prime mover in organising this festival, has already caught some attention in the UK, securing bronze in the Leicester Comedian Of The Year contest this very weekend, for example. No wonder, as he's got a very nice line in misanthropy – hating people smiling, for instance, which you might think is a drawback in a comedian – and having a very low tolerance to bullshit. Like many of the acts tonight, his accent is also a factor to British ears… he might sound a bit like Borat, but that only helps conceal a sharp and quirky comic mind.
Dimitri Bakanov is half-Russian and half-Ukranian, which gives him a unique take on the annexation of Crimea, which he ably exploited. He has an engaging story about visiting Lenin's grave in Moscow, and plays up to the stereotype of the unemotional, almost callous, Russian psyche to great effect. And anyone who ends a joke about Islam with: 'See, it's not as racist as you thought…' is clearly happy to play around the edges of possible offence. And for all his teasing, he stays the right side of the line.
Turkey's Asli Akbay did not have a good gig, deploying the naturalistic, digressive style of Eddie Izzard, but without the surrealism – or indeed any jokes. When a comic ends a laugh-free bit with a resigned: 'So that's a thing that happened', something's clearly gone awry. She was a drama school contemporary of Amy Winehouse, but couldn't quite figure out how to turn that fact into comedy.
Nikola Silić, a fast-talking Serbian bear of a comic making his first trip to the UK, offered another mixed bag. Material about girls taking care over their appearance while men don't would be considered pretty uninspired here, and a routine about wolves too long-winded for its payoff.Yet he's got an appealingly black sense of humour about his homeland's troubled recent past that evokes bitter laughs from the situation. And you certainly couldn't call that hack…
Finally, Viktor Victor Pãtrãşcan, who shared countryman Isac's sense of dark mischief in his best moments, but also dipped into territory that more mature comedy scenes would consider over-mined: budget airlines, easy filth and pun-based knob gags. His winning attitude was ultimately not enough to overcome the limitations of the material.
But kudos to events like this East European Comedy Festival, which can only help comics on their still-nascent homeland circuits strive towards International quality.
Review date: 26 Feb 2018
Reviewed by: