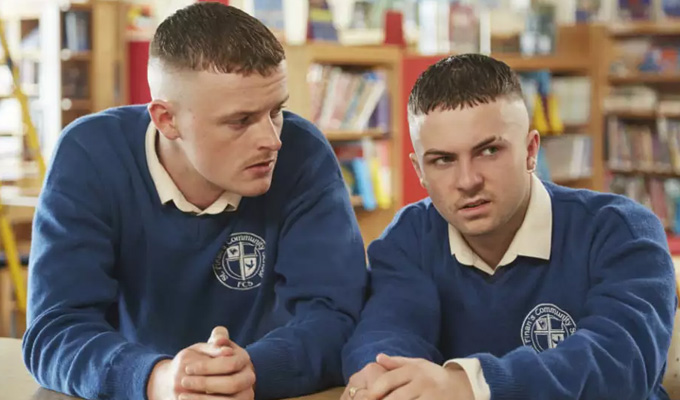 The Young Offenders
The Irish seem to be dominating British comedy at the moment – from GameFace to Derry Girls, via everything with Sharon Horgan's name attached.
Now joining the fray is The Young Offenders, BBC Three's raw and raucous a new comedy about the shady life of Cork inner-city teenagers, Conor and Jock, and based on the 2016 movie of the same.
Played by Alex Murphy and Chris Walley, the duo risk pushing the idea of loveable rogues into the realms of the unsympathetic. The first scene has them robbing lead off a roof and their lives are dominated by fighting, swearing and run-ins with the law.
Yet sympathetic they are. There's a rough charisma and warm chemistry between the pair, and it's clear this is the only life they know. And while they might think they are feared and respected criminal masterminds, they are actually utterly useless and, dare we say it, a little sweet under the rough surface. In fact the only people more useless are the cops chasing them.
For the gritty modern setting and harsh language, the script from Peter Foott is in a tradition that goes back to early cinema comedy: slapstick chases through a market, our antiheroes parading through the streets in their underwear, and a dumb-and-dumber dynamic with the more dimwitted sidekick led astray. Interestingly, a homoerotic undertone is more than hinted at: the love the two scallies have for each other almost made explicit.
It all feels very authentic: from he unfiltered Cork accents, to awkward teenage romances, to the struggles of Conor's single mother Mairead (Hilary Rose) to keep the pair on the right track. Yet against this is played quite a broad comedy with vim aplenty, and the combination is pretty potent.
• The first episode is on iPlayer here and will be screened on BBC One at 11.25pm on Friday.
Review date: 3 Feb 2018
Reviewed by:
Recent Reviews
What do you think?