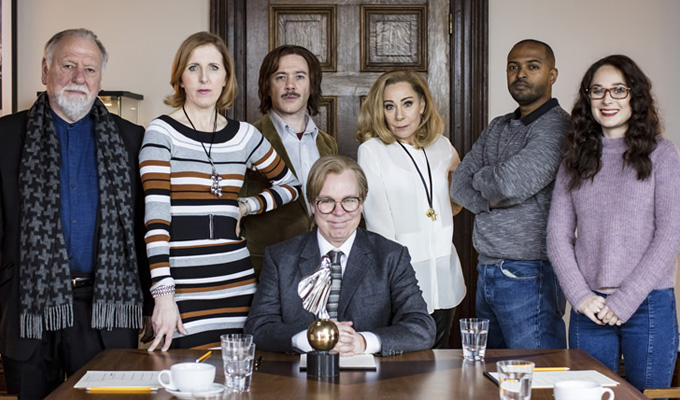 Inside No 9: And The Winner Is...
Inside No 9 has been nominated for enough awards in its time – scooping one only yesterday – which may explain how Steve Pemberton and Reece Shearsmith's minds came to be drawn to what happens in the jury rooms where such things are decided.
So, in an elegant London office building, a panel of luminaries assembles to choose who will be bestowed with the Royal Academy of Motion Picture Arts best TV actress gong. There are eight on the shortlist, very quickly whittled down to four. Poor 'Zoe Chapel' and her ilk get months of work dismissed in seconds.
But how to decide among the rest? The ensuing debate is less 12 Angry Men and more 6 Self-Obsessed Luvvies.
Well, five, really if you discount the member of the public Jackie (Phoebe Sparrow), who is so overwhelmed to be there and so enthusiastic about all the nominees she cannot bring any critical faculties to the debate.
Then there's Zoe Wanamaker as the theatrical bigwig Paula far too lofty to have bothered to watch any of the shows; Kenneth Cranham as very old-school thespian Rupert; Fenella Woolgar as jaded, cynical reviewer June; Noel Clarke as the man-of-the-moment director Gordon and Shearsmith as the desperate writer Clive, as unquestioningly fawning to the hotshot he hopes might be able to get his show made as Piers Morgan is to Donald Trump. Pemberton is the chairman, Giles.
Surprisingly for Inside No 9, there's very little subtext here: the characters are almost archetypes, their motives explicit, such as Paula itching to get out of the dreary meeting, or the discussion revolving around politics and optics as much as it does about the talents of the actors under debate. There are a few industry in-jokes, and the scenario frequently rings true for those of us who have sat on such panels, but will it not be alien to a wider audience. Certainly not those who accuse all modern TV performances of featuring too much mumbling.
But even when you think you have the measure of the piece, Shearsmith and Pemberton's script will chuck out a delicious line. Of course, I say 'when you think…' – for although the majority of this episode throws no major surprises, that only makes the twist at the end all the more unexpected.
Inside No 9: And The Winner Is… airs on BBC Two at 10pm tonight.
Review date: 30 Jan 2018
Reviewed by:
Recent Reviews
What do you think?