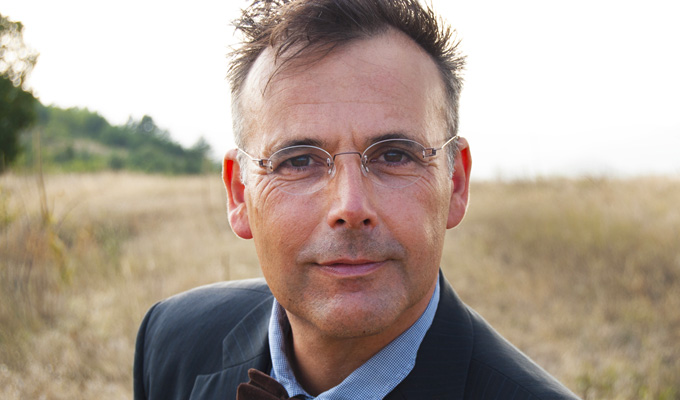 Rob Newman: A Total Eclipse Of Descartes
Note: This review is from 2018
Rob Newman makes no apology for the ambitious scope of his latest show, promising to cover 2,500 years of human ideas in just 60 minutes.
In the wide-ranging lecture, for effectively that's what it is, the comedian takes on Jean-Paul Sartre, Ivan Pavlov, Pythagoras, as well as the titular Frenchman – quite the learned heavyweights with whom to go head-to-head.
And he starts with a cracker of a takedown, Sir Cyril Burt, the architect of selective education, who convinced important people that social class essentially determined whether you were smart or not since he believed intelligence was inherited – and fabricated the evidence to prove it.
The story of his Trump-magnitude brazenness with regards to the truth makes for an incredible story, which Newman brings to passionate life. It's hilariously shocking because of Burt's audacity, and worrying because plenty of people somehow believe his falsified conclusions to this day.
Newman's mind has been focussed on things because of the pressure heaped on his daughter to pass tests, even while she's still in primary school. His intellectual grandstanding is tempered by stories, like this, which are of a more personal nature, including his own childhood adoption from a Salvation Army home.
He can't maintain the brilliance of the Burt routine, as few stories are quite so fertile – although the fate of Pavlov's dogs is a shocker if you haven't heard it before – however, Newman's enthusiastic engagement with his wide-ranging topic keeps things interesting.
However taking thought experiments literally seems pedantic - such as dissing the 'if a tree falls in a forest with no one to hear it, does it make a sound' by arguing that where there's such life as a tree, there will always be something to hear it. Or by suggesting the 'infinite number of monkeys will write Shakespeare' is nonsense since lower primates are not that interested in typing. He also makes a point about a difference between 'limitless' and 'infinite' that's hard to grasp. Pre-empting such concerns about his material, he adopts the snide voice of the cynic to belittle any counter-argument, rather than address it.
But it's all grist for his main issue against much of philosophy, which is that it focusses almost exclusively on the individual and the personal perception of their place in the universe. As an inveterate socialist, Newman prefers to consider people in relation to each other, focussing on co-operation and societies – even as we risk dismantling those societies as we resort to our social media silos and 'me first' politics. There may be a certain irony of expressing that thought in stand-up, that most solipsistic of art forms, but still.
This Soho Theatre run is early in a long tour, and there are a few glitches in his complex thesis to be ironed out, as he skims detail to get to the comedy or the argument. Indeed, the usually smooth Newman appears slightly ill-at-ease presenting some of the grander pieces, nervously toying with the mic stand and sometimes gravelly of voice (a case of getting hoarse before Descartes, if you insist), but eventually relaxes into it.
The material is rarely short of fascinating and the hour zips by, with much comic relief coming from the solo sketches with which he punctuates his argument. His gift for perfect mimicry is put to good use in impersonating a post-plastic surgery Paul McCartney – or especially as a Goodfellas-style mobster putting the squeeze on an ancient Egyptian wheelwright Pythagoras suspects of acquiring the secret of π.
That last sentence alone should give a clue to the originality and range of Newman's subject matter, while his curious, passionate critic is ever-present. You'll certainly take away plenty of food for thought from this absorbing session.
• Click here for the Total Eclipse Of Descartes tour dates.
Review date: 12 Jan 2018
Reviewed by: Steve Bennett
Reviewed at: Soho Theatre
Recent Reviews
What do you think?