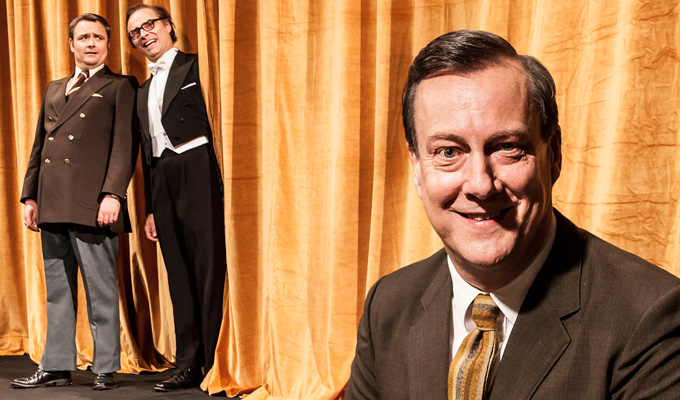 Eric, Ernie And Me
Note: This review is from 2017
It's not Christmas without Morecambe and Wise, but even you think you've seen everything the duo have done, this latest BBC Four comedy biopic offers a new perspective on their enduring partnership, through the prism of the contribution Eddie Braben made to the act.
The writer is credited with creating the rounded, natural dynamic that made Eric and Ernie such a comic phenomenon. They made it look easy, but Eric, Ernie and Me illustrates that it was anything but – certainly from Braben's point of view, with the demands of single-handedly creating the scripts for the biggest act on TV taking an intolerable strain.
Braben, a former fruit and veg market trader in Liverpool, had been writing for Ken Dodd when he got a call from the BBC to come and work with Eric and Ernie, whom they had just poached from ITV. After a very cautious first meeting, Braben reluctantly agreed to write a sample script – and the rest is comedy history.
He defined the screen personas we all remember, getting the pair to channel their genuine friendship, rather than delivering gags in a stagey way, as if projecting to the back row of the stalls.
Probably the most famous incident involving the writer was when he presented the pair with the idea of appearing in bed together, a suggestion they were uncomfortable with – until Braben reminded them, almost under his breath, that 'it was good enough for Laurel and Hardy…' That scene, of course, is here along with a brisk summary of Morecambe and Wise's vertiginous rise, such as THAT Andre Previn sketch, now a classic despite the conductor having turned up without having even glanced at the script.
But the task of putting all the right words in the right order took its toll on Braben, who agonised with the blank page. Writers' block is not the easiest thing to depict visually, but this film does a great job – thanks in part to Stephen Tompkinson's sympathetic portrayal, but in a larger part to the man himself. In his memoirs, The Book What I Wrote, Braben recalls drawing a TV screen on the wall of his home to visualise the pair – a device that helps out director Dan Zeff here.
'The Shakespeare of the Dingle' would shuttle back and forth to London on the sleeper train, and as the relentless treadmill of churning out the scripts marches on, Braben's life becomes a repetitive symphony of carriages rattling on tracks, and persistently ringing phones, as producer John Ammonds (Rufus Jones) was forever requesting rewrites: 'The boys feel…'
Family life, and his own sanity, suffers and eventually, Braben cries off with nervous exhaustion because of the demands of his 'employers'. Eric, Ernie and Me does not shy away from the performance insecurities plaguing Morecambe, especially – who is played to a T by Mark Bonar, almost unrecognisable as the same actor who stole scenes in Catastrophe.
He pushes Braben, even after his breakdown, to wring every joke possible out of each scene, born from a terror of feeling nothing is good enough. He's also shown to be reluctant to adopt the big-budget song-and-dance numbers that would ease Braben's workload, for fear of upsetting a winning formula – displaying the same fear of failure that Wise (another good turn from Neil Maskell) here blames on their failure to crack America. In scenes like this, writer Neil Forsyth– creator of Bob Servant – shows flaws in the sainted duo's character, without trashing their reputation.
And Braben's stock definitely rises, as the unseen third man in the partnership, showing the toll that entertaining an entire nation can have. It's a fine tribute to one of the best comedy writers the nation has produced, and a reminder of how much effort goes into the effortless.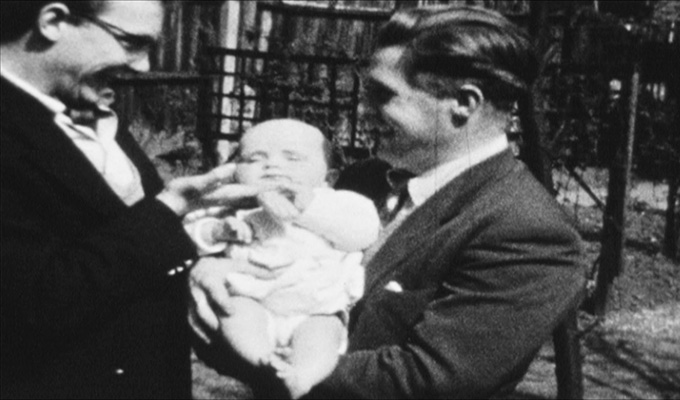 Meanwhile, the real Morecambe and Wise are seen in Eric and Ernie's Home Movies on BBC Two. Ironically, considering it is based around genuine and never-before footage of the couple, it's a lot less informative.
For off stage the couple were almost defined by normality, and while watching their grainy cine footage is warm-hearted – especially scenes of the family and former colleagues viewing the films for the first time – they are not fundamentally that interesting, certainly once the curiosity and novelty of seeing the pair young and off-duty wear off.
Efforts to tug at the nostalgic emotion seem heavy-handed, especially the clichéd soppy music playing under much of the footage. This is a useful historical record of Britain's two greatest entertainers, but it doesn't make particularly entertaining viewing itself.
In fact, it's rather a shame this has been given the more prestigious slot on BBC Two, when the fiction. so much more interesting and well made, is on the niche BBC Four.
Eric and Ernie's Home Movies is on BBC Two at 8pm tonight; and Eric, Ernie & Me is on BBC Four at 9pm.
Review date: 29 Dec 2017
Reviewed by:
Recent Reviews
What do you think?